Support the political satire magazine that's taking tRump on, one muckraking wisecrack at a time!
The 26th Anniversary Issue: $5 OFF on Subscriptions, Great Ad Deals!
In these strange times, people are worried, and in desperate need of some comic relief. We are committed to doing our civic duty by providing it! And our most popular issue of the year is coming out soon, the Humor Times April Anniversary Issue!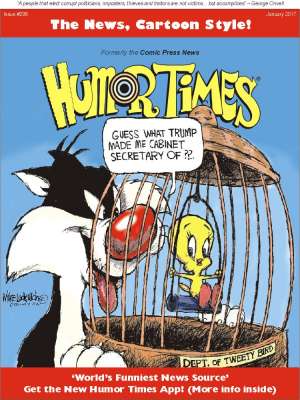 tRump and his gang are attacking so many things we Americans hold dear. But we are fighting back — with biting political humor! Help us help you, by advertising in our always-popular Anniversary Issue!
We're offering a great Ad Sale (contact us for details), as well as a Subscription Sale ($5 off! — Just use go here and use "GiftHT" in the discount code blank!)
Our national audience is perfect for any business — smart, fun-loving and possessing good incomes.
Demand for the Humor Times has skyrocketed since the so-called president took office, with subscriptions going up, people liking our Facebook page, following our Twitter feed, downloading our free app and visiting our website in record numbers.
You can benefit from all this attention! Just buy a low-cost ad in the Humor Times monthly publication and/or on our website (or even in our popular free email newsletter).
Our 26th Anniversary Issue is coming up, and would be a perfect place to start! The Anniversary Issue is always our most popular of the year, and we print thousands of extra copies, at no extra cost to advertisers.
The ad copy deadline is March 16th. We can create ad copy for you, or adapt copy you already have, at no extra charge.
Get seen by tens of thousands of enthusiastic people who can't wait to get their hands on the Humor Times!
To reserve your spot in the Humor Times Anniversary Issue today, just reply to this email or give us a call.
Thank you! (Contact info here.)