Wherein our intrepid radio talk show host, Jerry Duncan, interviews Alaska's half-term governor, Sarah Palin.
ANNOUNCER
Live from under a rock in your backyard, it's The Jerry Duncan Show.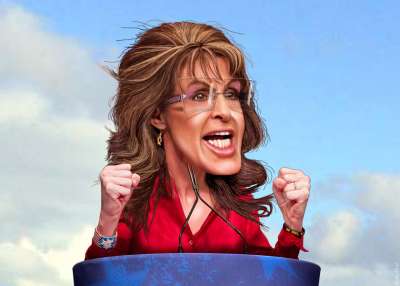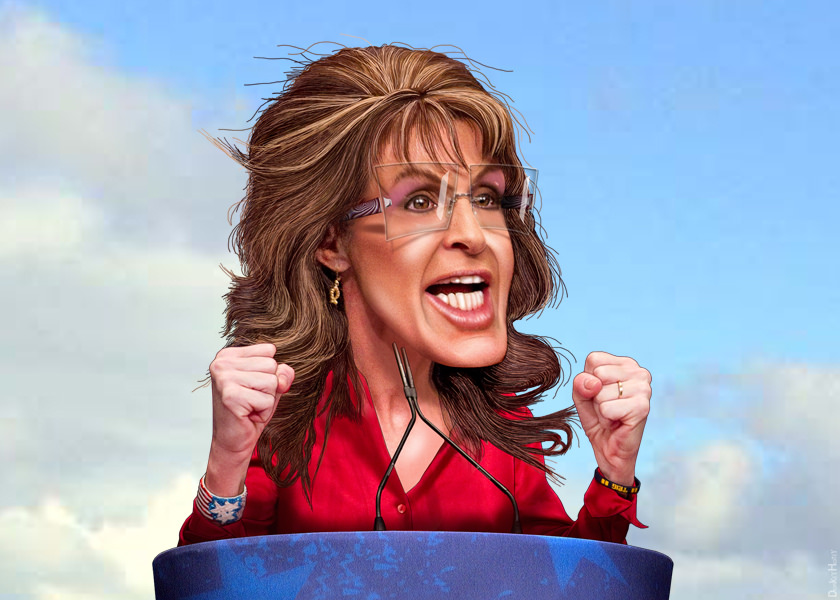 JERRY
Good morning listeners nationwide. Is it a good morning? We'll soon find out. Today on the show my guest is the former Governor of Alaska, Sarah Palin. But before we get started, I want to mention something about my 30th class reunion at Wasilla High in Alaska. Talk about a nightmare. Classmates were jealous that I was the most successful graduate. I'm not bragging, but I was number one in my class with a solid D average. A Nobel prize winner compared to Sarah Palin.
PALIN
(shouting) Duncan, I'm going to load my trusty rifle and fill your rear end with buckshot.
JERRY
Here's a sedative to calm you down, Governor.
PALIN
I need it. Man, you're meaner than me.
JERRY
Hey, you graduated from Wasilla High.
PALIN
You betcha. I was on the girls basketball team when we were the state champs.
JERRY
Right. You beat out a bunch of seals and penguins, real competition.
PALIN
I don't find that amusing. What did you accomplish in high school?
JERRY
I made a paperweight in wood shop shaped like the nose of Richard Nixon. Here it is.
PALIN
Yep. Has all the warmth and charm of an elephant's testicle.
JERRY
You were a sports broadcaster for a television station in Anchorage after college. What made you leave the profession?
PALIN
I was destined to be Miss Alaska. Wasn't that using the old noggin, Duncan?
JERRY
Sarah, when do brunettes eat a lot of beans?
PALIN
Geez that's a tough one. Supper?
JERRY
Before they take a bubble bath.
PALIN
You punked me, Duncan.
JERRY
You were elected mayor of Wasilla in 1996.
PALIN
One of the first things I did was get rid of the new library.
JERRY
Aren't books used to enlighten our minds?
PALIN
That's why we have Fox News. No need to waste money.
JERRY
In 2006 you became the Governor of Alaska.
PALIN
Drill, baby, drill.
JERRY
That causes Climate Change according to most scientists.
PALIN
Tom Cruise is a scientist, so is John Travolta. They're stupid. The more ice that melts, the easier it is for me to keep an eye on the Ruskies.
JERRY
Out of all the people, John McCain picked you to run with him in the 2008 presidential election.
PALIN
That was a no-brainer. I am a woman with lots of Spanx.
JERRY
Don't you mean spunk?
PALIN
There's no such word. You need to go back to Wasilla High and study Dr Seuss.
JERRY
Obama won the election. Some say you were the reason McCain tanked. Especially after the Katie Couric interview.
PALIN
Katie did a gotcha question. I had a brain fart.
JERRY
C'mon, you couldn't name one thing you read.
PALIN
I didn't know if Jack and Jill magazine counted, so I clammed up. I'm highly intelligent. Did you know the Vice President is the supreme boss in the Senate?
JERRY
Lord if you're listening, one of us has to disappear.
PALIN
Funny you mentioned the Lord. The people don't elect U.S. presidents, God does. Lots of people liked that zinger during the campaign. Second to only Obama palling around with terrorists.
JERRY
You don't read books, but you wrote one.
PALIN
Going Rogue: An American Life. You betcha. Gonna make a movie some day from the book. I want Sarah Huckabee Sanders to play me and her husband Colonel Sanders to play my hubby Todd.
JERRY
We're out of time thank goodness. Good-bye everyone. See you tomorrow.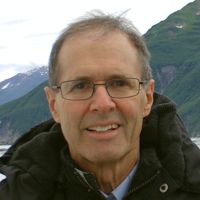 Latest posts by Dean Kaner
(see all)