"Mr Trump Goes to Washington" — Political satire in 3D graphic novel form.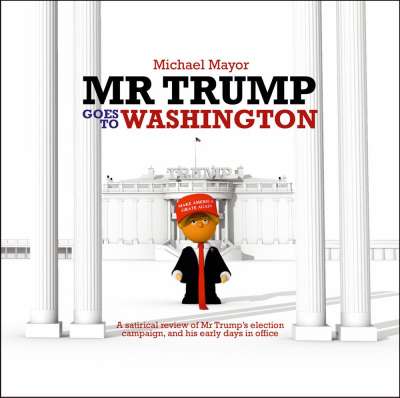 In 2016, much to his and the rest of the world's surprise, Donald Trump was elected President of the United States of America.
This is the story, told in pictures so that he can read it himself, of how he got there, and what Mr Trump did when he got to Washington.
All of Mr Trump's friends and bad hombres are featured in the book – from Mr Putin and Mrs Clinton (is she locked up, yet?) to Mr Bannon and Mr Obama (#NotAmerican).
The illustrations for the book are in stunning 3D (well, they're in 3D), and their cuteness belies the cutting humor they portray.
The author, Michael Mayor, does not envisage it ending well…
The book features:
• Political satire & humor in 3D graphic novel form.
• Making America Grate Again!
• Mr Trump and his friends make many, many enemies
• The unofficial biography of the man-child in charge of the future of mankind
• Son of a rich man becomes President of the USA, proving that sons of rich men can become President of the USA
• This is a #FakeJoke book
• This book has been enjoyed by 112% of the world's population: the author has secret proof that this is true
• From the brains behind Mr Trump's University, Mr Trump's Vodka and Mr Trump's Universal Healthcare Bill comes a silly picture book
• The style of the images, with a modern, clean look make this a thoroughly unique document.
ISBN: 9781787111639
UPC: 6-36847-01163-5
$12.99, £9.99
The following two tabs change content below.

The
Humor Times
is the "World's funniest news source!" Sure, we like to inform our visitors, but in a playful sort of way. We believe political satire is one of the best ways to help folks let down their defenses and see things in a new light, as well as to help bring haughty leaders back down to earth. Plus, it's just plain fun! The
Humor Times magazine
(delivered to your door 12x/year) is a great way to enjoy this brand of humor, it makes a wonderful gift, and
SUBSCRIPTIONS
are very affordable!

Latest posts by Humor Times (see all)