Hosts of 'The View,' Rosie O'Donnell, Whoopi Goldberg and Joy Behar, interviewed on talk radio show.
ANNOUNCER
Live from under a rock in your backyard, it's The Jerry Duncan Show.
JERRY
Good morning listeners nationwide. Is it a good morning? We'll soon find out. Today on the show my guests are the women from The View: Joy Behar, Rosie O'Donnell and Whoopi Goldberg.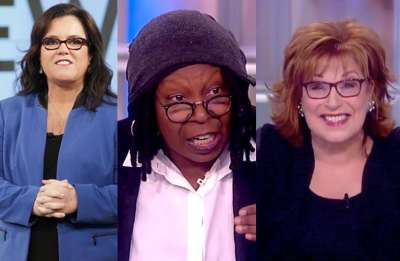 JERRY
Hi ladies.
BEHAR
Hello.
O'DONNELL
Hi.
GOLDBERG
Wazzup?
JERRY
Joy, you've been on the show the longest. Are you in a dead end career?
BEHAR
Hey empty suit. I do ribbon cutting at new Wal-Mart stores. I'm the spokesperson for Poligrip and will be doing reverse mortgage commercials. And I don't even know what the hell a reverse mortgage is.
JERRY
It's something that old farts like.
BEHAR
My peeps.
JERRY
Speaking of old, what does Barbara Walters look like without makeup?
BEHAR
Ever see that little girl spinning her head in The Exorcist?
JERRY
Yikes! Let's talk politics. Michael Wolff wrote the tell all book Fire and Fury about inside the Trump White House. Wolff said Trump doesn't like to read, displays child-like behavior and very self-centered. In other words, he's not fit to be president.
O'DONNELL
Trump is a jerk. The orange man publicly humiliated me in 2006 saying derogatory names about being fat. All I said was that Trump was a snake oil salesman and he went postal.
GOLDBERG
I'm with you, dawg.
O'DONNELL
Did you just call me a dog?
GOLDBERG
In a good way. You're a dawg.
O'CONNELL
Yeah? When yo momma dropped you off for school she got a fine for littering.
GOLDBERG
Bitch, you're so damn fat that when you wear a yellow raincoat people think you're a taxicab.
JERRY
Ladies, this isn't The Jerry Springer Show.
BEHAR
That's not what you told me over the phone. People like you end up missing in my neighborhood wise guy.
JERRY
Tell me the worst things Trump did his first year in office.
O'CONNELL
I'll start. He pulled out of the Paris Climate Agreement. The weather is changing so rapidly from greenhouse gases in the earth's atmosphere. Toxic gases are rising and that's just from Trump's mouth.
BEHAR
Russian interference in our elections. It makes Trump appear guilty after the firing of FBI director Jame Comey. Also, his stonewalling of investigations and using Republican surrogates claiming this is all a political witch hunt by the Democrats against him. Everything smells of obstruction including his armpits.
GOLDBERG
Charlottesville. A bunch of racists spewing anti-Black, anti-Semitic, anti-Immigrant slogans during demonstrations claiming minorities are trying to run the government. The only thing I want to run is my Whoopi & Maya medical marijuana company. And Jerry, I think you could use a doobie to mellow out. What do you say? I have one in my purse.
JERRY
I've never smoked a doobie. Will I be mentally deranged?
BEHAR
You already are, Duncan. You have nothing to lose.
Goldberg lights the doobie.
O'DONNELL
Let me have a puff. Star Jones is suing me because I revealed that fibber had gastric by pass surgery. Like she lost 100 pounds arguing with Joy and I on The View.
O'Donnell takes a puff.
O'DONNELL
Wow, strong stuff. Makes me want to forget about my divorce.
GOLDBERG
What divorce? You're not even married.
O'DONNELL
Cool.
BEHAR
Pass it to me, Rosie. I hear OJ Simpson has a crush on me. I don't need another backstabber.
GOLDBERG
Gimme that doobie, girl. It's Jerry's turn. (pause) Here Jerry, this is going to turn you into a marshmallow. Inhale slowly.
Loud breathing is heard.
JERRY
Does nothing for me. Whoops, all of the sudden I can't find my feet. Are you girls hiding them? C'mon, I need to walk.
The women are giggling.
O'DONNELL
We're going to take over the interview.
GOLDBERG
Yeah. Not many people know about you. Like did you date chicks in high school?
JERRY
(giggling uncontrollably)
Are you the Spice Girls? You're beautiful.
BEHAR
Get back on topic. Did you have a girlfriend in high school?
JERRY
I did. Her name was Sarah.
O'DONNELL
I heard you say on one of your shows that you went to Wasilla High in Alaska.
GOLDBERG
Shhh. This could be the big reveal.
JERRY
She was pretty…
BEHAR
Dumb.
JERRY
Good looking. A brunette with a nice shape. Sarah liked me because she thought my dad owned Duncan Donuts.
O'CONNELL
Was the girl's name Sarah Palin?
JERRY
Well. She was older than me as I recall. The town nicknamed her "the mindless cougar."
O'CONNELL
It could be Palin.
JERRY
Sarah had great ambition. Worked her way up to cashier at the local market. When the customers checked out at the register, they'd thank her for the great service. In kind, she'd respond "You betcha."
BEHAR
It's Palin.
GOLDBERG
Look. The drug is wearing off.
JERRY
There's my feet. I knew they couldn't have gotten far. What are you girls still doing here?
GOLDBERG
The show ain't over, homie.
JERRY
Now it is you idiots. See you tomorrow everyone.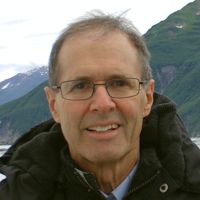 Latest posts by Dean Kaner
(see all)