Wherein our intrepid talk radio show host interviews The Three Stooges
ANNOUNCER
Live from under a rock in your backyard, it's The Jerry Duncan Show.
JERRY
Good morning listeners nationwide. Is it a good morning? We'll soon find out. Through the magic of a hologram, live from heaven my guests are The Three Stooges. Welcome Larry, Moe and Curly.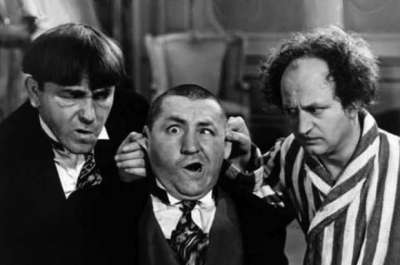 LARRY
"Enchanted!"
MOE
"Enraptured!"
CURLY
"Embalmed!"
JERRY
From where you live. What do you think of the president?
MOE
I'm pissed, because he's stealing our act. People think Donald Trump, Rudy Giuliani and Sean Hannity are funnier than us. I heard there is The Three Amigos remake in the works for them.
CURLY
Hotchachachaa.
LARRY
Hey, Jerry. How is Donald Trump like a marshmallow?
JERRY
No clue.
LARRY
He's easy to roast, a little orange on top, catches on fire easily and will melt under any kind of heat.
Moe slaps Larry across the face.
MOE
Nobody asked for your opinion, Porcupine.
CURLY
Nyuk, nyuk, nyuk.
MOE
What's so funny, Muttonhead?
CURLY
Knock, knock!
MOE
Who's there?
CURLY
Orange.
MOE
Orange who?
CURLY
Orange you glad to see me?
Moe pulls Curly by the nose.
CURLY
Ouch, ouch. I'm sorry, Moe.
JERRY
C'mon, knock it off. We have a serious problem here in the States. Trump is building a border wall to keep out immigrants seeking asylum.
MOE
That's funny. We're building a wall up in heaven to keep out Trump.
LARRY
Moe.
MOE
Yes, Porcupine.
LARRY
Where does the tag on your shirt say "made in heaven?"
Moe hits Larry over the head with his fist.
MOE
Keep sewing. I got a date tonight with Marilyn Monroe.
CURLY
I like heavenly bodies. Nyuk, nyuk, nyuk.
JERRY
The Mueller investigation of Trump is getting closer to the White House. Can you ask the Lord what's up with that? Everyone is anxious.
CURLY
Hold that thought. There's a beautiful woman next to me who just got her angel wings.
CURLY
Hey, toots. Let's play post office.
WOMAN
That's a kids game.
CURLY
Not the way I play it.
She slaps Curly across the face.
CURLY
You got some noive!
MOE
Jerry. I just finished having coffee with Albert Einstein. He almost lost his mind when I told him that Trump thought Einstein Bros. Bagels sucked. But he has a theory.
JERRY
What is it?
MOE
Suggest to Sara Huckabee Sanders that she pull Mike Pence's finger, then pull Trump's finger. It should let out the fart gas before they both explode.
CURLY
Poifect.
JERRY
Did you fellas really make 190 Three Stooges shorts?
MOE
We did. Had a contract with Columbia Pictures for decades.
LARRY
And never got a raise!
CURLY
Yeah. Harry Cohn, the head of Columbia Pictures lied every year and told us our shorts weren't doing that well at the movie theaters. Rrrowf! Rrrowf!
MOE
Well, we got even when the three of us landed in heaven. Larry had a brilliant idea. We kidnapped Harry and had one of the angels deliver him to hell.
MOE
You know, Larry. You're a pretty smart ignoramus.
LARRY
Thank you.
JERRY
No news from heaven and the thought we might be stuck with Trump for another two years?
MOE
Hang in there, wise guy. Just got this bulletin from the Lord.
JERRY
What does it say?
MOE
Make that six years of Trump. Man, the Lord does work in mysterious ways.
JERRY
There must be a typo. I'm sure He or She meant six days or six months.
MOE
Gotta run. We're headlining the Angel Ball with Frank Sinatra and his Rat Pack.
CURLY
Those dirty Rats.
MOE
Pick two.
Curly points to Moe's fingers and he sticks them in Curly's eyes.
MOE
You knucklehead.
JERRY
I'm depressed. See you tomorrow everyone.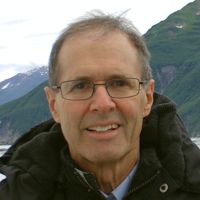 Latest posts by Dean Kaner
(see all)