Wherein our intrepid talk radio show host interviews 'The Debaters': Senator Bernie Sanders and comedian Roseanne Barr
ANNOUNCER
Live from under a rock in your backyard, it's The Jerry Duncan Show.
JERRY
Good morning listeners nationwide. Is it a good morning? We'll soon find out. Today on the show my guests are Senator Bernie Sanders and comedian Roseanne Barr. They will be today's debaters, discussing the 2018 midterm elections.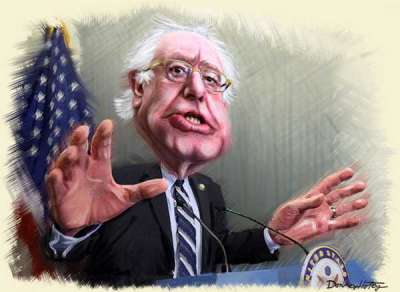 SANDERS
Go easy. Took me two hours to find this fercockta place.
JERRY
There's been some road construction and I forgot to tell you about the detours.
ROSEANNE
Yeah. The guy in front of me was drivin so slow, the Amish people in the buggy gave him the finger.
JERRY
Let's see what's at stake in the upcoming election. There are 435 seats in the House. The Dems need 24 Republican seats to win the majority. In the Senate, there are 100 seats and the Dems need to take 2 seats to win the majority. It's an uphill battle.
SANDERS
Did anyone think Justify would win the Triple Crown this year? How about the Eagles winning the Super Bowl?
BARR
How about you gettin a haircut?
SANDERS
Only if they remove the top 1%.
BARR
(sarcastic) Very funny. I'd rather be rich than stupid.
SANDERS
You're both.
JERRY
Roseanne. You're a friend of Trump.
BARR
He's makin America great again. All these Republican candidates are runnin on his impressive record.
JERRY
Slow down. Do you realize the House could be in jeopardy and 60% of Americans think Trump is bad for America?
BARR
Fake news. Look what he's done? We're now friends with Russia and North Korea, Trump yanked the security clearances of our crooked intelligence officials, more people are workin, Omarosa is gone from the White House and Sarah Sanders is on a diet.
SANDERS
Hold it right there. First, Sarah Sanders is not on a diet. She's so fat the when she goes to the beach, all the whales start singing We Are Family. Second, many people are working more than one job and almost everyone is working for less money. Wages are stagnant. Third, Omarosa has secretly taped 200 conversations in the White House. Good luck with that one. Fourth, with friends like Russia and North Korea, who needs enemies? Thanks a lot Trumpster for exposing America and the free world to getting our elections hacked now and forever.
BARR
Okay, Dr. Oz. Sarah Sanders is a little porky, but she's tryin to lose weight. Since I had my gastric bypass surgery in 1998, I eat like a bird. Unfortunately, that bird is a California condor.
SANDERS
The economy is anemic. Do you know what my supporters call their roommates?
BARR
No clue.
SANDERS
Mom and dad.
BARR
About that Omarosa. She's an eggs benedict.
JERRY
You mean Benedict Arnold.
BARR
Whatever, Duncan. (rants) I'm on Ambien! They're comin to take me away ha, ha, they're comin to take me away!
JERRY
Looks like the Bernster touched a raw nerve.
BARR
(still ranting) I shouldn't have been born. I'm the Tasmanian devil. My brother is Charles Manson. My extended family are morons.
JERRY
Calm down. This looks like a scene from One Flew Over The Cuckoo's Nest.
BARR
I'm sorry and stuff. Okayyyy!!
JERRY
Let me ask. What do you call a lion who has eaten your mother's sister?
BARR
A fat cat.
JERRY
Nope. An aunt-eater.
BARR
You're gettin me upset again!
JERRY
Shrug it off. Go to your refrigerator tonight and chug down some beers.
SANDERS
Not a good idea. For all the guys who think a woman's place is in the kitchen, remember that's where the knives are kept.
JERRY
You're brilliant, Bernie. I see a future for you at The Comedy Store.
SANDERS
Can I try a few jokes on your audience?
JERRY
Sure.
SANDERS
My wife said she needed more space, so I locked her out.
JERRY
Not bad.
SANDERS
Chili represents three stages of matter: Solid, liquid and eventually gas.
BARR
Hey, wait a second. Those are my jokes.
SANDERS
Finders keepers, losers weepers.
BARR
That's not fair. You're do damn ugly that when you look in the mirror, your reflection runs away.
SANDERS
Are you talking trash?
BARR
(yells) See my middle finger, Bernie? I wasn't born with enough of them!
JERRY
Tomorrow everyone. Same time, same station.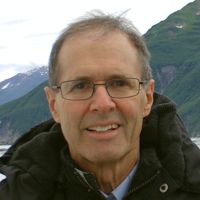 Latest posts by Dean Kaner
(see all)