Making fun of the headlines today, so you don't have to
The news doesn't need to be complicated and confusing; that's what any new release from Microsoft is for. And, as in the case with anything from Microsoft, to keep the news from worrying our pretty little heads over, remember something new and equally indecipherable will come out soon:
Really all you need to do is follow one simple rule: barely pay attention and jump to conclusions. So, here are some headlines today and my first thoughts:
How the Duchess of Cambridge revolutionized the hairband
Damn, personally, I'm impressed that she's even heard of Motley Crue.
Pastor got caught having sex with man's wife and ran from the house naked
In fairness, he was getting to know her biblically!
Tiffany Trump reportedly has a new boyfriend, and he's a billionaire from Nigeria
See what happens when you respond to one of those emails?
Kevin Hart steps down as Oscars host
No word yet if Hart's career as an awards show host will be listed in the 'In Memoriam.'
Alex Trebek has something in common with Trump
… uh, everything he does is, at least, in part, questionable?
Happy 70th Birthday Ozzie Osbourne.
Or, as Ozzie would say, "hruapy bviresdry!"
Bristol Palin's Ex Levi Johnston expecting baby no. 3 with wife Sunny
Damn, this guy just can't keep his Johnston in his Levis.
Donald Trump takes heat for not knowing Apostles' Creed or singing hymns at Bush funeral
I get the singing thing, but it's a little tough remembering all the characters from Rocky.
Marlboro invested 1.8 billion in Cannabis company
Who's the spokesman gonna be 'The Marlboro Mon?!'
General Flynn might have been wired
People around Trump spend more time recording then Def Jam…
Too much sleep linked to a greater risk of disease and death, study finds
Damn it, I woke up to read this crap?!
Rex Tillerson on Trump: 'Undisciplined, doesn't like to read, tries to do illegal things'
So, Trump is now mad at Tillerson for acting like the 'Secretary of Stating the Obvious.'
Kid Rock says he's going to lead Christmas parade whether he's invited or not
… because everyone loves a charade.
The US added 155,000 jobs
Make that 154,998 'cause, y'know, Kevin Hart and John Kelly.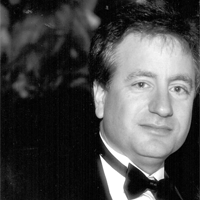 Latest posts by Paul Lander
(see all)