Artist did what any concerned citizen would do: Start a Facebook group
A Faux News Exclusive by Robert Tutton
NEW YORK – A group of Williamsburg residents has taken to the streets with hopes of spurring the kind of change important to many Brooklynites. The group of demonstrators is rallying to have the Williamsburg Bridge painted to be more, in the words of one protester, "ironic."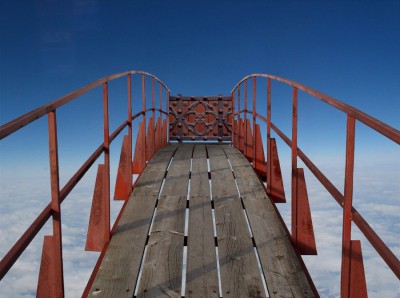 "I live right there in that new building on Union, across from the artisanal vest shop, you know the one where they weave everything by hand, from only organically sheared, local alpacas and conflict-free silk… Anyway, every time I look out my floor-to-ceiling windows, I'm just really put off by the sight of that bridge," said Mathilde Shea, who organized the rally.
"I mean, I've had to put up with this eye sore for almost a year," she continued, "and as a New Yorker, I know I'm not alone."
Shea initially called her father to complain. "'I have no control over the color of a bridge on the other side of the country, Sweetie,' I told her," Mr. Shea said, on a phone call from Colorado.
So, Ms. Shea did what any concerned citizen would do: She started a Facebook group, which she then transitioned into a Meetup. The Meetup started here, at the corner of Union Avenue and N 10th Street, and never quite subsided.
"Yeah, I guess we've been here a few days now. I don't really know, Time is just a man-made machination meant to stifle and suppress individuality. Man, you don't even know… you're a slave to it and you don't even know," said Benji, 34, a student at the School of Visual Arts.
As the demonstration wears on, infighting and creative differences have caused rifts to emerge in the once unified movement. "Well, I was thinking we could paint it, like, a springy-lime green, with, like, metallic gold polka dots," Shea said.
The largest faction of opposition to Shea's is led by Benji, who "was thinking maybe bright orange with a pattern of handlebar mustaches."
"Yeah, that would be totally Dali-esque," he went on. Other groups are pushing various other patterns, from plaid to the pink bunnies from Uncle Jesse's room in Full House.
"Dali-esque? What does that even mean?" Shea said, "I'm trying to bring a touch of contemporary flare to this thing. Crossing this bridge will be literally like walking a Kusama infinity net."
"Kusama is a hack!" Benji shouted as he knelt at the cooler. Still, others are more ambivalent. "Color? Whatever, man," said
Brendyn Hayward, looking disinterestedly over his Ray-Ban aviators and self-rolled cigarette.
But through this tangle of thrift store clothes, ironic facial hair and heated design jargon, there is yet hope for resolution, if only symbolic, in the communal cooler of PBR's – the great equalizer in which both Benji's and Mathilde's warring blocs pause to wet their whistles.