Wherein our intrepid talk radio show host interviews President Donald Trump and Japanese Prime Minister Shinzo Abe.
ANNOUNCER
Live from under a rock in your backyard, it's The Jerry Duncan Show.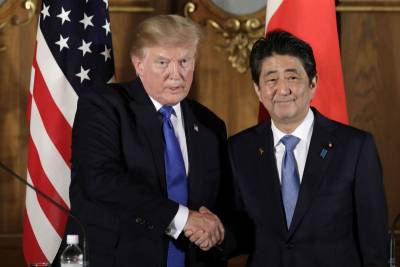 JERRY
Good morning listeners nationwide. Is it a good morning? We'll soon find out. Today on the show my guests are President Donald Trump and Japanese Prime Minister Shinzo Abe.
JERRY
Good morning, Prime Minister Abe.
JAPANESE PRIME MINISTER SHINZO ABE
Nice be on show.
PRESIDENT DONALD TRUMP
After spending two days in Tokyo and seeing how bad the Japanese drive, I'm starting to think Pearl Harbor was an accident.
ABE
Trumpster right, Duncan. Pilots high on sake.
TRUMP
(jokes) They were bombed.
JERRY
Tell me. What did your meetings produce?
ABE
Nothing really. I upset Kim Jong-un fire missiles near Japan. Trumpster say not worry.
TRUMP
Hey. As long as they can't reach my golf courses everything is fine.
ABE
What about my golf courses? Missiles will destroy.
TRUMP
So what? You'll still have saunas. Those hot geisha girls make Stormy Daniels look like road kill.
JERRY
You didn't answer my question.
TRUMP
We agreed to reduce our trade deficit with Japan and remove trade barriers. There. Are you happy?
JERRY
Abe said nothing accomplished.
TRUMP
Fake news.
JERRY
You upset Abe. Kim's missiles are a threat to Japan. And 10,000 American troops stationed in South Korea are in harms way.
TRUMP
I trust him. In fact we exchange love letters all the time. Would you like me to read a couple?
JERRY
By all means.
TRUMP
I wrote this gem.
(reads letter) You melt me like diarrhea in my pants. You make my brain stupid and give me heartburn. I wish you were never born.
All My Worst, Donald.
TRUMP
Here's Kim's reply.
(reads the letter with accent) You love me, even though I fat and ugly. You head so HUGE, it knock down missiles. Bad. Very bad.
Insincerely, Kim
JERRY
Why do you continue to defend dictators and tyrants, yet level a personal attack against Vice President Joe Biden on foreign soil?
TRUMP
Because in my brilliant mind Kim did not violate U.N. Resolutions when he fired short range missiles. Biden violated the rule of decency when he said I prefer E.T. to illegal immigrants.
JERRY
Do you?
TRUMP
Of course I do. E.T. eventually went home.
JERRY
Your own National Security Advisor John Bolton disagrees with you about Kim and said so publicly.
TRUMP
John's mustache misspoke. Don't you think that thing looks like a caterpillar stuck on his lip?
JERRY
Prime Minister Abe. What words of wisdom can you expound upon us?
ABE
Man who pee on electric fence receive shocking news.
JERRY
See you tomorrow everyone.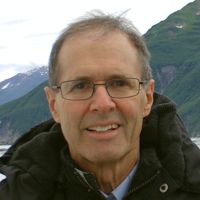 Latest posts by Dean Kaner
(see all)