Wherein our intrepid talk radio host interviews Donald Trump, Vladimir Putin and Kim Jong-un.
VLADIMIR PUTIN
Live from under rock in backyard, it's Jerry Duncanova Show.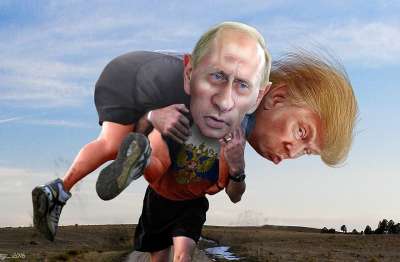 JERRY
Give me the microphone, you idiot.
PUTIN
Funny. No?
JERRY
No!  Funny is the orange walrus sitting next to you.
JERRY
Good morning listeners nationwide. Is it a good morning? We'll soon find out. From the Trump Plaza in New York City, my guests are President Donald Trump, Russian President Vladimir Putin and Supreme Leader from the hermit kingdom of North Korea Kim Jong-un.
KIM
Very nice be here.
JERRY
Why are you in New York? A UN meeting?
KIM
No, no. Me buy Johnny Rockets franchise. Gonna be call Johnny Rocket Man in North Korea.
TRUMP
Hey. I own the trademark to the name Rocket Man. We need to make a deal.
KIM
No deal. You greedy. Bad man, bad man.
TRUMP
What do you think, Vladdy?
PUTIN
16 years Russian president. Never met man like you. Since I let prostitutes pee on bed in your Moscow hotel room, give Kim name.
TRUMP
Okay, Kimster. Deal.
JERRY
So what did you accomplish at the UN this year?
TRUMP
Absolutely nothing. All the nations are stiffing the U.S. We pay billions of dollars to protect dead beats. Russia wouldn't invade these countries. Would you, Vladdy?
PUTIN
No invade. I cyber attack.
KIM
Me, too. Cyber attack Sony Pictures, 2014. Seth Rogan insult Kim in film. He not funny.
JERRY
I thought the film was a riot, munchkin.
TRUMP
Cyber, shmyber. Let's not let a little hacking come between friends.
JERRY
Why are you in New York, President Putin?
PUTIN
Have tickets Kinky Boots.
JERRY
It's about a drag queen. I don't think that's your kind of play.
PUTIN
Oh. I thought Stormy Daniels musical. Want money back. Got screwed.
TRUMP
Nothing wrong with getting screwed. I've screwed the government, workers on my properties and the American people.
KIM
Trumpster has loose screw in head. Not be trusted.
JERRY
Dictators are not to be trusted, either. Especially you, Vladdy. We have proof that you hacked the 2016 elections in favor of Trump.
PUTIN
Big lie.
JERRY
12 Russian intelligence officers indicted for hacking, Paul Manafort under indictment for colluding with Russians and Michael Cohen approved of meetings with Russians to get dirt on Hillary Clinton.
KIM
You berry smart fella.
JERRY
And you, Kimster have lied about not testing nuclear weapons. We have proof.
KIM
Old Chinese saying. If you stand on a toilet, you high on pot.
TRUMP
(laughs) That's a good one!
JERRY
Speaking of laughs. World leaders laughed when you said in your speech at the UN General Assembly that your administration has accomplished more than almost any in US history. The truth is you're the laughing stock of the world.
TRUMP
Fake news. My crotch was tight. That's what they were laughing at.
PUTIN
You want me to loosen balls? Operating table in back alley.
JERRY
Hey, Vladdy. Wasn't Russia friends with North Korea during the cold war?
PUTIN
(sinister smile)
Good buds long time. Russian and North Korean laugh about competition, but Russian laugh more.
KIM
Korean proverb say you no strike smiling face.
TRUMP
What's with the proverb crap? Just smack him.
KIM
I get country blown up. You nuts!
TRUMP
Gotta plane to catch. Need to stir up some trouble in the White House.
JERRY
See you tomorrow everyone.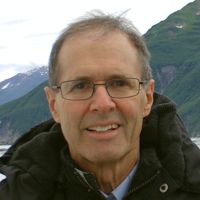 Latest posts by Dean Kaner
(see all)