Wherein our intrepid talk radio show host interviews The Wizard of Trump.
ANNOUNCER
Live from under a rock in your backyard, it's The Jerry Duncan Show.
JERRY
Good morning listeners nationwide. Is it a good morning? We'll soon find out. Today, I'm pleased to announce that magician David Copperfield turned Donald Trump and a few of his Republican friends into the cast of The Wizard of Oz. Only, these folks took a wrong turn on the yellow brick road and headed somewhere between Oz and The Twilight Zone, and so we end up interviewing "The Wizard of Trump."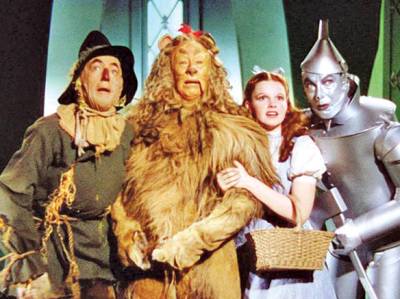 JERRY
Good morning, Dorothy.
DOROTHY SARAH PALIN
It's not a good mornin. I'm depressed.
JERRY
Why?
DOROTHY
Auntie Em and Uncle Henry told me never to talk to strangers, but some witch promised me a pair of Ruby slippers so I ran away. Now I'm on some friggin' yellow brick road in the middle of nowhere.
JERRY
I have some more bad news from home.
DOROTHY
What? Are Auntie Em and Uncle Henry selling Amway?!
JERRY
No. The governor's mansion in Kansas burned down. Almost took out the whole trailer park.
DOROTHY
Geez. Now the dog and their owners will have to use the same tree when they go for a walk. Gotta run, Duncan. I see a scarecrow dancin around a pole.
JERRY
Let me talk to him. It could be Michael Jackson.
DOROTHY
Mr. Scarecrow. I have someone who can help you.
SCARECROW MIKE PENCE
I need a brain. I can't think.
DOROTHY
That makes two of us.
SCARECROW
Help!
DOROTHY
He's all yours, Duncan.
JERRY
Listen to me, Scarecrow. I just searched Google and read that you're scared to be alone with a woman.
SCARECROW
Yes. My mind is thinking bad things. The Bible says, "And he drank of the wine and was drunken and uncovered within his tent." Genesis 9:21.
JERRY
Listen, idiot. These are good thoughts. You need to see The Wizard of Trump, so he can give you a brain. The Wizard said, "I alone can fix it."
SCAREROW
How do I find him?
JERRY
Follow the Yellow Brick Road. I'm tracking you guys with GPS.
DOROTHY
Oh, look. There's a Tin Man.
TIN MAN STEPHEN MILLER
Please oil me.
SCARECROW
Sorry. I'm a straight guy.
TIN MAN
I need you to oil me with my can. I'm all rusty and can't walk.
DOROTHY
Hold it right there, buster! I recognize you. Aren't you the guy who said mean things about Munchkins? That you didn't want them in your country.
TIN MAN
I've changed. I'm now sympathetic to their plight. The other day I was staring at the road when I saw a man pickpocket a Munchkin. I don't know how anyone could stoop so low.
JERRY
Can you hear me, Tinsel Teeth?
TIN MAN
Yes.
JERRY
Follow the yellow brick road. The Wizard of Trump will give you his heart. He never uses it anyway.
DOROTHY
Duncan, there's a lion!
SCARECROW
I'm bookin, baby!
TIN MAN
Me, too! You're on your own, Moose Mama.
The lion is crying.
DOROTHY
I'm not scared of you, pussycat.
COWARDLY LION LINDSEY GRAHAM
I know. Nobody is. I need courage.
DOROTHY
Come with me. I'm going to see The Wizard of Trump. He'll straighten you out.
COWARDLY LION
What happened to your two buddies?
DOROTHY
They're cowards. You're the only one with real courage.
COWARDLY LION
Wow. Thanks Dorothy. You cured me. Now I can stand up to The Wizard of Trump.
JERRY
Unfortunately, I have bad news. Trump was arrested for impersonating a president of the United States. See you tomorrow everyone.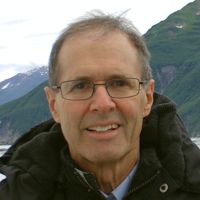 Latest posts by Dean Kaner
(see all)