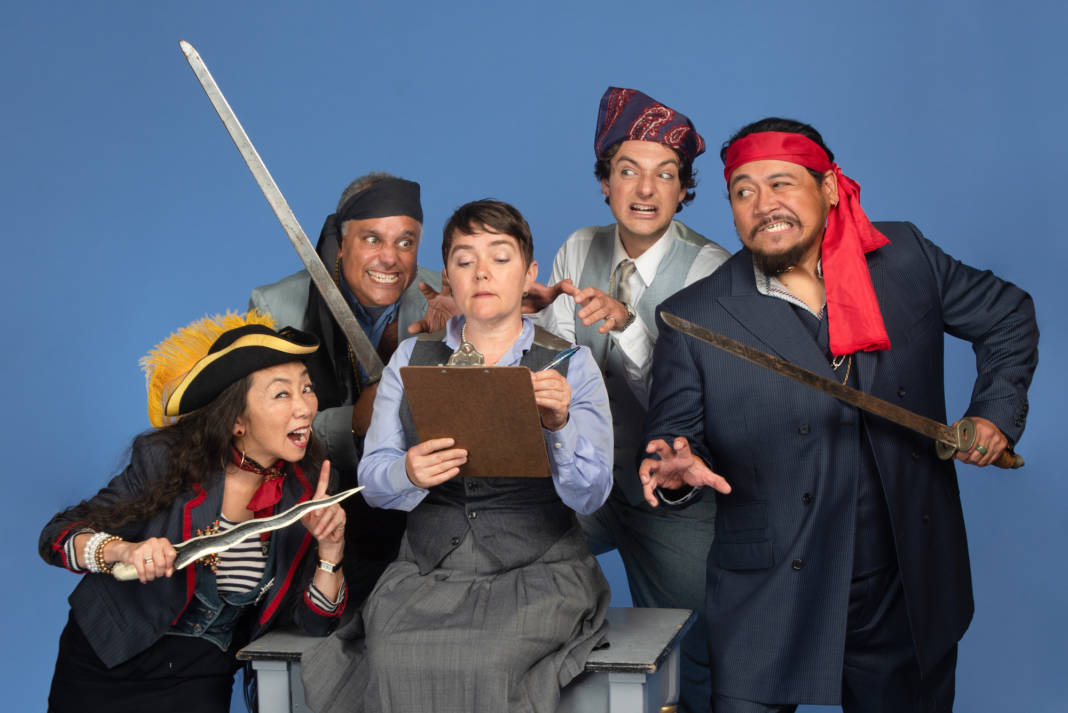 Street theater legends take on a massive housing project in the bay area, with singing, dancing and radiation level warnings in 'Treasure Island': Coming to the Sacramento area mid-August.

By Joshua Rotter
Art mirrors Bay Area life in San Francisco Mime Troupe (SFMT)'s 60th-anniversary show, Treasure Island.
Opening in Dolores Park on July 4 [free shows in Davis, Sacramento and Nevada City Aug 13-16], the play about a greedy one-legged developer, L.J. Silver, whose rush to develop Treasure Island overrides any human or environmental safety concerns, is heavily inspired by both Robert Louis Stevenson's classic 1883 novel Treasure Island and a more recent conversation about the plundering of the same-named landmass in the middle of the San Francisco Bay.
"Back in late December or early January, we were debating which issue to explore," said Treasure Island writer, actor, and SFMT Collective member Michael Gene Sullivan. "A friend of the company said, 'Oh, talk about what's going on on Treasure Island.'"
Sullivan is referring to the extensive redevelopment project that is currently underway to transform the former military base into a thriving metropolis with up to 8,000 homes, three hotels, restaurants, shops, entertainment venues, and public parks.
But critics complain that the land is not equipped to withstand a major earthquake, that the island's soil may be toxic, and that the development plan called for hundreds of evictions of existing residents.
Sullivan says it's critical for SFMT members to spotlight local issues like these in the new San Francisco, where even the most progressive residents may be too distracted by their tech devices to see what's happening right in front of them.
"When I first got to the Mime Troupe, 31 years ago, there was more of an alternative press, like the San Francisco Bay Guardian, and people were getting their information from a variety of progressive sources of which we were one," Sullivan said. "So back then, we could rely on more knowledge in the community about things. But as rents have gone up and [alternative news sources] got pushed out, now we have to think, 'Even though this is happening in San Francisco, does everybody know about it?'"
Sullivan spoke to 48 Hills about the greed buried beneath Treasure Island, keeping the Tony- and Obie Award-winning SFMT alive, and how the collective hopes to inspire a new generation of playwrights to tackle hard-hitting issues like homelessness and environmentalism.
48 HILLS Talk to me about the parallels between Stevenson's book and what's currently happening on Treasure Island today.
MICHAEL GENE SULLIVAN I was thinking about how developers are planning to build stuff on Treasure Island even though it's poisoned with radiation and chemicals and how they are kicking people off and how it's in line with what's happened in San Francisco in the past with redevelopment.
But I realized that any story like this is not just about the environment and housing, but it's also about that kind of freeform, free-market greed that flips around and ruins communities and puts people in the worst possible situations.

The underlying thing is greed and desperation, so when I thought about Treasure Island and who is it that goes around destroying communities, ripping off civilians, and then sweeping away? Pirates. So if we were going to do something about Treasure Island, why don't we do our version of Treasure Island? And that's what it is, my own particular adaptation of Robert Louis Stevenson's Treasure Island, only with developers as pirates.
48 HILLS How do you get audiences out to a show like this, who may not be familiar with the SF Mime Troupe's history and work? "Mime" probably still throws people.
MICHAEL GENE SULLIVAN If someone hasn't seen a Mime Troupe show, they may not quite get how it works, but if they visit the website and watch some show clips, then they say, "Oh, it's this kind of farce."
But it's not easy. I was recently talking to someone whom I've known for years and has seen Mime Troupe shows, but somehow the shows they saw, even though we were singing and dancing, were exceptions in their minds. They still thought, "But you're still a mime troupe."
Technically we are. Mime is an exaggeration of everyday life in story and song and silent mime is a type of mime. Sometimes what I tell people is that it's just like seeing a Broadway show, but it has a point.
48 HILLS I've read that the group has even toyed with the idea of changing its name for clarification purposes. Is this something you're still considering?
MICHAEL GENE SULLIVAN I don't know. There's always a point where we say we've got to change the name. But then, there's also the perspective of we're just too famous. All of the awards, the Tony award, the Obie award, and also when we go outside of California, people remember us as the San Francisco Mime Troupe. But in San Francisco, we're kind of this weird open secret.
48 HILLS Last year, you compiled and released an anthology of 17 Mime Troupe plays on the iTunes bookstore. What did you want readers to take away from the experience?
MICHAEL GENE SULLIVAN The purpose of the anthology was not just for our audience members to go back and read the shows, but also for colleges, teachers, and schools trying to figure out how they can use drama to analyze and approach all these weird, political, socio-economic issues. How can they deal with social justice, economic justice, and racism? We want to make sure that the particular way that the Mime Troupe does it is on the table and an option for them.
We made them available so they can read them and say, "That's a way to deal with homelessness or environmentalism that's just as hard-hitting, but not depressing." This way you're activating the audience.
48 HILLS What does it mean for an arts group to have survived for 60 years in San Francisco?
MICHAEL GENE SULLIVAN I think 60 years anywhere is a big deal, but what I always tell people is that the Mime Troupe is a collectively run non-profit, doing free shows—all of these things that we're told in the United States are loser propositions and yet we're still here and Lehman Brothers is dead. All of that just goes to the money that rises and falls, but throughout that, the Mime Troupe has always been here and hopefully always will be.
48 HILLS How can audiences best support the San Francisco Mime Troupe today?
MICHAEL GENE SULLIVAN The hardest thing with the Troupe, since arts funding keeps getting cut and we don't take corporate sponsorships, is always reminding people that we are the community's theatre and how much we rely on people to be able to make donations and contributions to keep us alive.
So how do you support the company? Bring your friends to shows and make sure you're always giving as much money as you'd pay to see the Avengers: Endgame movie. Put us in your will, leave us your horse… maybe not your horse. We need a van. Donate cars to us. We are always working right on the edge, counting every penny.
TREASURE ISLAND
Thu/4, 2pm, Free (Suggested donation $20)
19th St. & Dolores St., SF
Northern California dates run through Sep. 8
More info here.
This interview was originally published in 48hills.org, June 29, 2019.