Wherein our intrepid talk radio show host interviews the four living presidents, Jimmy Carter, Bill Clinton, George W. Bush and Barack Obama.
ANNOUNCER
Live from under a rock in your backyard, it's The Jerry Duncan Show.
JERRY
Good morning listeners nationwide. Is it a good morning? We'll soon find out. My guests today are four of our living presidents Jimmy Carter, Bill Clinton, George W. Bush and Barack Obama.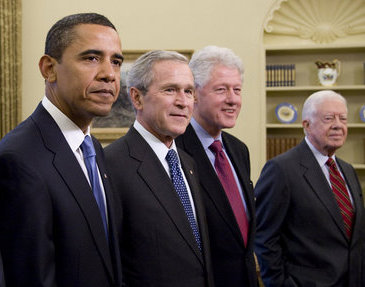 PRESIDENT JIMMY CARTER
I brought you some peanuts from my farm.
JERRY
Thank you, President Malaise.
PRESIDENT GEORGE W. BUSH
Jimmy. I saw two peanuts walking down a dark street last night. One was a salted.
PRESIDENT BILL CLINTON
Speaking of nuts. We have a serious crisis in our country with that lame president in office.
CARTER
Are you talking about Trump?
JERRY
(sarcastic) No. George Washington.
BUSH
That's what I thought.
JERRY
The United States is no longer respected around the world. Our allies hate us and our enemies love us. We are essentially a banana republic.
CARTER
Banana Republic? That's where I buy my chinos.
BUSH
I love them crunchy orange puffs.
JERRY
They're pants, not Cheetos. You idiot!
BUSH
Oh.
PRESIDENT BARACK OBAMA
All the Trump B.S. I don't know how he sleeps at night.
JERRY
I do. First he lies on one side, then he lies on the other.
OBAMA
Let's agree on a presidential candidate all of us can support in 2020 who can beat Trump.
CARTER
How about my wife Rosalynn?
JERRY
C'mon. She's so old, Eve bitch slapped her for making out with Adam.
CLINTON
How about Hillary? She's the real thing.
BUSH
Is depression covered by Obamacare?
OBAMA
Let's face it, fellas. Michelle Obama is the best qualified to beat Trump. She writes books, he doesn't read. She likes to be mentally fit, he's just mental. She likes to exercise.
BUSH
Trump's in shape.
OBAMA
Unfortunately, it's the wrong one.
CARTER
All in favor of Michelle, say aye.
IN UNISON
Aye!
CLINTON
Bring her on. But I get to screen the interns.
The studio door opens, then slams shut. Trump enters.
PRESIDENT DONALD TRUMP
Duncan, I'm here to defend my record. I'm the most honest person you'll ever know.
JERRY
What a knee slapper! Ba ha ha.
CARTER
Let us pray. Lord, grant me the strength to accept things I cannot change. The courage to change the things I can. And forgiveness when I finally snap.
CLINTON
How about a prayer for me? I have lust in my heart.
TRUMP
I always wondered. What is colder, my hand or a gun?
OBAMA
We're running Michelle Obama against you in the election.
TRUMP
Michelle's a loser. I trashed her garden at the White House. All she knows about are vegetables.
JERRY
Like you, Pumpkin head.
TRUMP
(chants) Send her back. Send her back. Send her back.
JERRY
We are sending her back. To the White House in 2020. See you tomorrow everyone.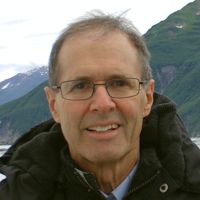 Latest posts by Dean Kaner
(see all)