Wherein our intrepid talk radio show host interviews Louisiana Senator John Kennedy.
ANNOUNCER
Live from under a rock in your backyard, it's The Jerry Duncan Show.
JERRY
Good morning listeners nationwide. Is it a good morning? We'll soon find out. My guest today is Louisiana Senator John Kennedy.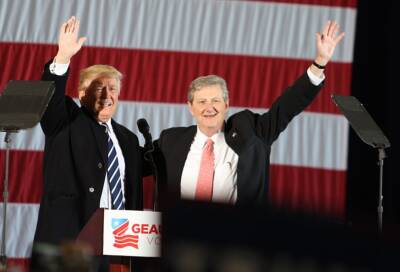 JERRY
Hi Gomer.
SENATOR JOHN KENNEDY
Shazam.
JERRY
You and I have something in common. We both live under a rock.
KENNEDY
Golly!
JERRY
You're 68 years old. A Democrat until 2007. Why did you switch parties?
KENNEDY
Because my blood alcohol content exceeded my IQ. I'm a proud red neck, Duncan.
JERRY
The intelligence community assessment is that Russia, not Ukraine interfered in the 2016 presidential election.
KENNEDY
That's where you're wrong. Both of them were at fault.
JERRY
The only people selling that argument are Vladimir Putin and Donald Trump.
KENNEDY
No. It's right there in Jack and Jill magazine. I seen it.
JERRY
How do you know the Ukrainian used a computer?
KENNEDY
Simple. We found whiteout on the screen.
JERRY
I understand you have an announcement to make.
KENNEDY
Yes, sir. I'm going to be playing my fiddle on the new Hee Haw television show. Myself, Congressman Louis Gohmert and Congressman Steve King have a trio we call The Crack Pots.
JERRY
What kind of songs do you sing?
KENNEDY
We write our own music. Songs like Witch Hunt, I Love Trump, Fake News. The Righties love 'em. In fact, singer Pat Boone is making a comeback with Witch Hunt. Ole Pat may have lost his teeth, but he still can carry a tune.
The studio door bursts open and Vice President Joe Bidden enters.
JERRY
It's Joe Biden everyone.
VICE PRESIDENT JOE BIDEN
I'm here to tell the American people the truth. Gomer Pyle over there is a Trump apologist.
KENNEDY
I don't even resemble Gomer.
BIDEN
We know. You're uglier.
JERRY
What has changed since Trump became president?
BIDEN
Everything, Duncan. Look, the dynamics of our relationship with NATO for starters. In the recent NATO meetings in London, Trump was mocked by European leaders. They don't trust America. Trump's threatened to cut back funding for the organization. Our only wall of defense against Russia. Yet, he doesn't care about the trillion dollar deficit that is out of control in our country.
KENNEDY
Trump's not a businessman. Oops, I mean he is a businessman.
BIDEN
Really? Trump casinos. Bankrupt. Trump Airlines. Bankrupt. Trump University. Bankrupt. And Ukraine. His criminal conspiracy against the United States. A mind bankrupt.
KENNEDY
If I'm too open-minded, my brains will fallout. Louisianans worry about that because we all have the same DNA.
JERRY
Knock, knock.
KENNEDY
Who's there?
JERRY
You're not.
KENNEDY
You're not who?
JERRY
You're not the sharpest tool in the shed.
KENNEDY
I beg your pardon. I have a law degree from the University of Virginia.
BIDEN
I have a law degree from Syracuse University. So there.
JERRY
I got both of you beat. I have a law degree from Trump University. Our motto is "90% of all people are caused by accidents."
BIDEN
I decided to make Barack Obama my vice president. I mean his mama. His wife's mama. I meant to put in a comma. I'm going through trauma.
KENNEDY
Gaff bag. What do you say you join me for some vape smoking in my office? It might clear your head.
BIDEN
Shucks. I thought a vape pen is for writing.
JERRY
See you tomorrow everyone.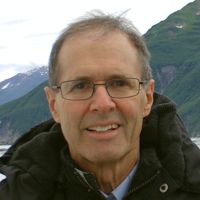 Latest posts by Dean Kaner
(see all)