GARY, IN — Helen Schrum was putting a new box of tissues inside an old plastic tissue box holder she bought last month at the Salvation Army when she noticed an odd label inside. The label read "Made in America." She claims it was the first such label she'd ever remembered seeing.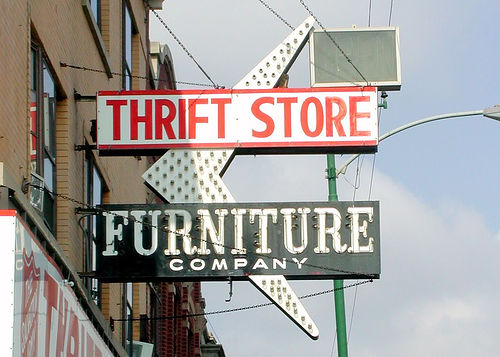 "I never would have guessed," said Schrum. "It looked every bit like a Chinese knock off. White opaque lucite plastic with colorful fishes printed on the side. I never noticed the label before. For some reason, I was convinced I'd gotten it at a local discount store someplace and that it was made in China."
After some online research, Schrum, who is 31, learned that back in the not-so-distant past, products such as her handy tissue box holder were actually made right here in America. She also learned that approximately 65% of the used products being offered in America's thrift stores have "Made in America" stamped on them.
"When I saw that label, something inside me jumped for joy," said Schrum. "At some point in history, Americans were able to produce a quality product without help from the Chinese, Malaysians, Japanese…hell, just about every other country out there," she said enthusiastically.
Schrum says finding that tissue box holder has changed the way she looks at America.
"While I'll still buy most of my stuff from the discount stores, I'll at least do it with a bit more pride, knowing that there was a time when American made plastic stuff was way better than Chinese stuff."
The following two tabs change content below.
P. Beckert's is one voice vying for frequency room at the top of the opinion dial. Angered and bewildered by many of today's events, P. Beckert uses humor as a tool to fight an onslaught of stupidity and ignorance that seems to permeate the airwaves and pollute the sensitivities of a once-brilliant nation. If you like her posts, become a follower and leave a comment. And don't forget to share on Facebook, Twitter and other social accounts! Syndicated from her
I Said Laugh, Dammit
blog.
Latest posts by P. Beckert (see all)