Wherein our intrepid talk radio show host interviews Democratic Majority Leader of the House Nancy Pelosi and Republican Minority Leader Kevin McCarthy.
ANNOUNCER
Live from under a rock in your backyard, it's The Jerry Duncan Show.
JERRY DUNCAN
Good morning listeners nationwide. Is it a good morning? We'll soon find out. Today on the show my guests are Democratic Majority Leader of the House Nancy Pelosi and Republican Minority Leader Kevin McCarthy.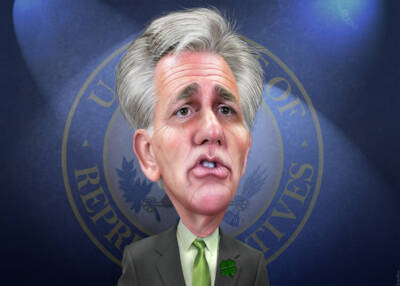 KEVIN MCCARTHY
Let me make it perfectly clear. President Trump did bear some responsibility for the January 6 assault on our U.S. Capitol.
JERRY
(game show voice)
Kevin McCarthy. For a future in the Republican Party, Is that your final answer?
MCCARTHY
No, no, no. Trump did not incite the riot. Forgive me, Orange Crush.
NANCY PELOSI
There you go again, not telling the truth. Duncan, McCarthy is so cruel that he hates a character on Sesame Street.
MCCARTHY
Big deal. One character.
JERRY
Who?
PELOSI
The Count.
JERRY
What a coincidence. Trump dropped by Sesame Street because he wanted to stop the Count.
JERRY
For the record, you're both lunatics.
PELOSI
Don't mess with me, Duncan. I know Snooki from Jersey Shore.
MCCARTHY
And I know Rudy Giuliani.
JERRY
Fools. They both act like the Mob. Remember, any mobster that likes getting kicked in the balls is a Soprano.
JERRY
I need to move on. Pelosi, you were in Congress when George W. Bush and Donald Trump were President.
PELOSI
Yes. I begged W to stop reading My Pet Goat when the planes hit the Twin Towers on 9/11. He couldn't put the book down. With Trump I didn't worry, because he couldn't read a book.
JERRY
McCarthy. You were elected to Congress when W was still in office.
MCCARTHY
He was brilliant. How many leaders would have the guts to start a war with Iraq when our economy was in the crapper and with no evidence?
JERRY
You were also in Congress when Obama was President.
MCCARTHY
Yeah. We had a border crisis out of control. Obama used to call illegal aliens undocumented Democrats. There were other problems like his tax proposal. You know, we Republicans are against raising taxes on the wealthy. Better to stick it to the middle class and poor.
JERRY
How do you get the rich to pay their fair share of taxes?
PELOSI
I'll answer that one. I told President Obama if you really want to get those rich people to pay their fair share, then put them all in your administration.
JERRY
Then there's Trump. He loved our enemies and hated our allies. That's un-American.
PELOSI
Impeached twice for obstruction and collusion with a foreign power interfering in our elections. When Trump sleeps, he lies on one side then lies on the other.
MCCARTHY
It's not a lie if you believe it.
JERRY
McCarthy. Is Joe Biden the legitimate President of the United States? Yes or no.
MCCARTHY
Eeeny, meeny, miney, moe. I don't think the President is Joe.
JERRY
C'mon, idiot. Biden won in an electoral landslide and had 7 million more votes than Trump. Ballots were counted and recounted in the swing states. The Trumpster came up empty.
MCCARTHY
I base my conclusion on one thing, Duncan.
JERRY
What?
MCCARTHY
Biden said Americans can only have one hamburger a month. What's next? No more wieners?
PELOSI
Well, in your case and Matt Gaetz that would be a good thing. Chop, chop.
JERRY
You're an amazing woman for your age, Pelosi. The size of Chris Christie's arm. Hands no bigger than a Barbie doll. One or two face lifts.
PELOSI
Did you say I had a face lift?
JERRY
Just a guess.
PELOSI
(angry) Do I have a turkey neck? No! Does my nose look chiseled like a Picasso? No! Do I dye my hair?
Slight pause.
PELOSI
Two out of three ain't bad. My idol is Mary Todd Lincoln. A brave woman who overcame adversity after her husband was assassinated.
JERRY
She ended up in a mental institution.
PELOSI
That's because she was a Republican. I get it.
JERRY
Final question to you McCarthy. Why are you trying to oust Congresswoman Liz Cheney from House leadership?
MCCARTHY
We need to make room for Caitlyn Jenner. A rising star in the Republican Party.
JERRY
Yes. But she comes with a warning label. "May contain traces of nuts."
See you tomorrow.
Follow A Bit of Biden on Instagram  @abitofbiden
 The Jerry Duncan Show
(c) Dean B. Kaner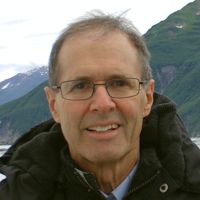 Latest posts by Dean Kaner
(see all)