Wherein our intrepid talk radio show host interviews Florida Governor Ron DeSantis.
ANNOUNCER
Live from under a rock in your backyard, it's The Jerry Duncan Show.
JERRY DUNCAN
Good morning listeners nationwide. Is it a good morning? Not really. Today on the show my guest is Florida Governor Ron DeSantis.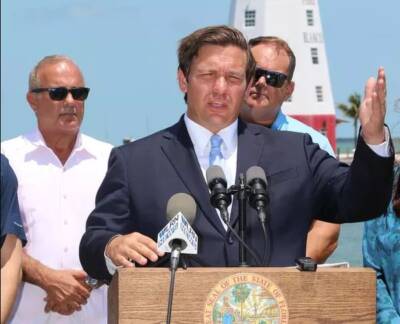 JERRY
Welcome, Governor.
GOVERNOR RON DESANTIS
Not thrilled to be here, but I need the publicity.
JERRY
Knock, knock.
DESANTIS
Who's there?
JERRY
Jerry.
DESANTIS
Jerry who?
JERRY
Gerrymandering. You changed the boundaries in Florida so Republicans can win elections.
DESANTIS
That's an outdated term, Duncan. It's called "Cheat to Defeat." Perfectly legal.
JERRY
Disney just sued you, because you've had a targeted campaign of government retaliation against them for defending LGBTQ rights.
DESANTIS
You know why?
JERRY
Because you're an asshole?
DESANTIS
No. They oppose the Don't Say Gay bill. I don't want any kid to know about gender identity in school grades k-12.
JERRY
Then why do you believe it's okay if teenage girls have babies?
DESANTIS
Because they can have a reality show on MTV. It's American entrepreneurship.
JERRY
No wonder Trump named you Meatball Ron.
JERRY
You signed a six week abortion ban into law. You're against DACA. Oppose recreational marijuana. Against a minimum wage increase. Drafted legislation to protect Confederate monuments, and support election law restrictions.
DESANTIS
What's the point?
JERRY
You're a douchbag, Meatball. So 80's. Everything in Florida is in the 80's. The average temperature, humidity, and your IQ. You're living in yesterday.
DESANTIS
No. I'm not! I oppose mask mandates. I'm selling merchandise for my upcoming presidential election campaign with cool slogans like "Don't Fauci America" on T-shirts. And I train alligators to circumcise baby boys in Miami.
JERRY
Mickey Mouse is dying to join our conversation. He's pissed off about your plan to build a prison next to Disney World.
DESANTIS
Go ahead. I want the scoop on why Tigger has Pooh inside him.
Jerry calls Mickey.
JERRY
Mickey. It's Jerry Duncan.
MICKEY MOUSE
Put pimple puss on the line.
JERRY
Okay. Here we go.
All three on the call.
DESANTIS
What's the problem, Julius Cheeser?
MICKEY
It's Mickey. And I have a problem with you!
DESANTIS
Bring it on.
MICKEY
Disney World employs over 77,000 people. We pay part of your salary. Now you're thinking about building a prison next to the Magic Kingdom for spite.
DESANTIS
That's right. I want you and your cartoon cronies to disappear forever.
MICKEY
(angry) You mark my word, climate denier. Florida will be under water one day. Minnie and I could be sleeping with you and your wife in a waterbed. And one thing we don't like are rats!
DESANTIS
(sweating)
I'm going to have nightmares, cheesehead. Can we do a deal?
MICKEY
Sure. You can build your prison, as long as you and all the Trumps are locked up in it forever.
JERRY
Florida Governor Ron DeSantis and Mickey Mouse. See you tomorrrow.
The Jerry Duncan Show
(c) Dean B. Kaner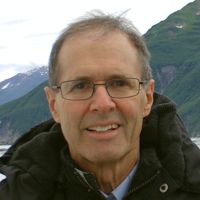 Latest posts by Dean Kaner
(see all)