Wherein our intrepid talk radio show host interviews Donald & Melania Trump.
ANNOUNCER
Live from under a rock in your backyard, it's The Jerry Duncan Show.
JERRY DUNCAN
Good morning listeners nationwide. Is it a good morning? Definitely not. Today on the show my guests are Donald & Melania Trump. Ex-President Donald Trump is a twice-impeached, insurrectionist and convicted sex abuser. His wife Melania is a former model and mail order bride.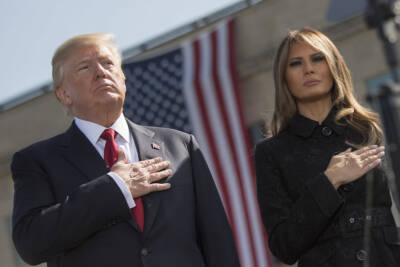 PRESIDENT DONALD TRUMP
You forgot to mention I was indicted in Manhattan. I'm a stable genius.
JERRY
Yeah. Falsifying business records in order to conceal damaging information before the 2016 election.
TRUMP
I'm the most honest person you'll ever know. Just ask my wife.
MELANIA TRUMP
Not this wife. Maybe Marla Marbles. He cheat when I pregnant.
JERRY
Is that why you wear black?
MELANIA
Yes. I rehearsing for husband funeral.
TRUMP
What?! I'm going to die?
MELANIA
(nods in the affirmative) Yes. You eat bucket of Kentucky Fried Chicken and McDonald's double cheeseburgers every day. Fat tummy explode.
JERRY
Aren't you making sure he eats healthy?
MELANIA
No. Have interview for The Bachelorette TV show.
JERRY
You may have to compete with Jean Carroll and Stormy Daniels.
MELANIA
Jean old lady. Stormy big boob.
TRUMP
Never heard of either one. They sound nasty.
JERRY
Let me refresh your memory. What's left of it. You sexually abused Jean Carroll in a dressing room at Bergdorf Goodman department store. A jury of nine found you guilty in a Manhattan courtroom.
TRUMP
For your information, Bergdorf Goodman are my accountants. There are very fine people on both sides.
JERRY
Are you on drugs, Trumpster?
MELANIA
He sniff glue, Duncan. I call him Chunky Junkie.
JERRY
You paid off Stormy Daniels to cover up the sex while you were married to Melania.
TRUMP
Hold that thought. Can't figure out if I cheated on Stormy or Melania.
JERRY
Melania.
TRUMP
You're wrong. It was both.
JERRY
You recently held a CNN Town Hall in New Hampshire hosted by Kaitlan Collins. You still lie about the 2020 election being rigged.
TRUMP
Hey. It gets laughs.
TRUMP
That Kaitlan is a lightweight. I steam rolled her and sucked the oxygen out of the room. Her botox lips were moving, but nothing came out. Though I did detect a smelly fart.
JERRY
I need to stop the interview. Your former Vice President Mike Pence is on the line.
TRUMP
Is Mike calling from heaven? I think the Proud Boys hung him on January 6, 2021.
VICE PRESIDENT MIKE PENCE
The Lord is my salvation. I am well hung, not hung.
TRUMP
You're weak, Mike. You should have certified the election for me.  I won.
PENCE
Return to the Lord your God, for He is gracious and merciful. Slow to anger.
TRUMP
Your wife is not my type.
PENCE
God will roar from Zion and utter His voice from Jerusalem.
TRUMP
The only reason I chose you for Vice President is so no one would assassinate me.
PENCE
And Abraham saddled his ass and rode out of town.
JERRY
The perfect segway. Time to shove that bible up your rear, Veep. Donald Trump, Melania Trump and Mike Pence everyone. See you tomorrow.
The Jerry Duncan Show
(c) Dean B. Kaner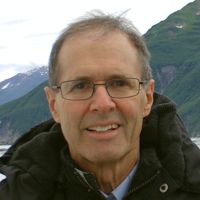 Latest posts by Dean Kaner
(see all)