Less than a week after Mitt Romney and his family returned from vacation in New Hampshire, photos have begun emerging showing a relaxed Mittster soaking up the sun on the shores of Lake Winnipesaukee. His choice of sunbathing attire? A tiny blue Speedo.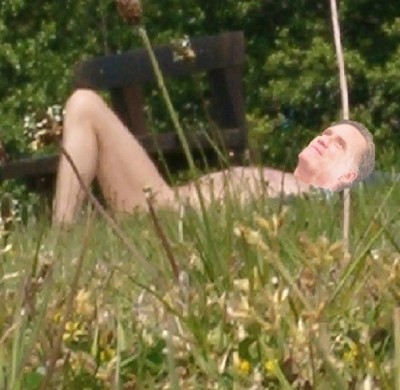 Folks in the Romney camp are working overtime trying to figure out how the photos got leaked to the press. But Mitt, himself, seems ok with the leakage of information.
"Hell, I'm pretty damned fit for a man my age. I wear my Speedos as a badge of honor," said Romney (off the record, of course).
Rumor has it that the photos are selling for thousands of dollars and that Russian President, Vladimir Putin, has bought several for his Speedo photo collection.
"I can totally relate with Mr. Romney," said Putin. "I, myself, love the smell and feel of spandex, and applaud any man for having the balls to wear a tight-fitting bathing suit."
Unfortunately, the above quote was ultimately attributed to a morning drive radio show host from Chicago who thought the whole idea of Putin being a fan of men in Speedos was funny. He admitted that it was a hoax and that he just wanted to see if he could pull off the accent.
Vladimir Putin, it turns out, does not have an affinity for men in Speedos or Mitt Romney.
Get Free access to a digital edition of a recent issue of the Humor Times magazine by sharing our site!
The following two tabs change content below.
P. Beckert's is one voice vying for frequency room at the top of the opinion dial. Angered and bewildered by many of today's events, P. Beckert uses humor as a tool to fight an onslaught of stupidity and ignorance that seems to permeate the airwaves and pollute the sensitivities of a once-brilliant nation. If you like her posts, become a follower and leave a comment. And don't forget to share on Facebook, Twitter and other social accounts! Syndicated from her
I Said Laugh, Dammit
blog.
Latest posts by P. Beckert (see all)