Wherein our intrepid talk radio show host interviews Smokey the Bear.
ANNOUNCER
Live from under a rock in your backyard, it's The Jerry Duncan Show.
JERRY DUNCAN
Good morning listeners nationwide. Is it a good morning? We'll soon find out. Today on the show my guest in studio is Smokey the Bear.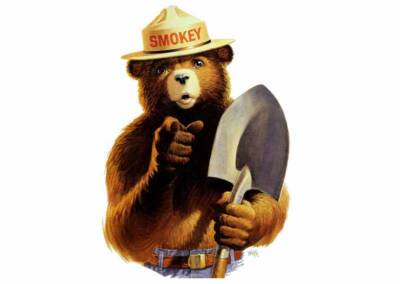 SMOKEY THE BEAR
Did you remember to bring the lox? I love salmon.
JERRY
Even have bagels, Smokey.
SMOKEY
Good. And I brought a beehive so I can spread honey on them.
JERRY
OMG! Those fuzz balls are flying all over the place. Get that thing out of here!
SMOKEY
Meany. I brought the hive, because you said you like The Bee Gees.
A door is heard closing.
SMOKEY
The hive is gone. Don't worry, bee happy.
JERRY
Tell me how you became Smokey the Bear.
SMOKEY
My real name is Kish'm Tuchas. I was born in the Capitan Mountains of New Mexico.
JERRY
Ah, New Mexico. Do you know what grows in Albuquerque?
SMOKEY
My appetite?
JERRY
The crime rate. Please continue, Smokester.
SMOKEY
I was orphaned as a cub because of a forest fire. My paws were burned to a crisp before a ranger came to the rescue and brought me to a veterinarian.
There is a pause.
JERRY
And? Finish the story.
SMOKEY
Not until you make me a peanut butter sandwich.
JERRY
Not now, dude.
SMOKEY
Okay then. When I healed, I lived in the National Zoo in Washington, DC where I became a national celebrity.
JERRY
Nice digs.
SMOKEY
Not really. I wanted to live out my life in the forest. Human beings are cruel, Duncan. They destroy our habitat with fires. They shoot us. They even kill each other. And we're the ones called animals?
JERRY
Not so fast. When Goldilocks disappeared the three bears were suspects.
SMOKEY
Any more smart remarks, I'm going to strangle you with my bear hands.
JERRY
Hold on, big fella. Goldilocks is on the line.
GOLDILOCKS
Is this Jerry? Is this Jerry?
JERRY
You don't have to repeat yourself. I was ignoring you the first time. Where have you been all these years? We thought you were dead.
GOLDILOCKS
No. I'm alive. Hey, I can't make this long. Burnt my ear ironing.
JERRY
Still a dumb blonde.
GOLDILOCKS
Why? Just because I take a ruler to bed at night to measure my sleep?
JERRY
(sarcastic) That's normal.
JERRY
Listen up. Smokey wants to say something.
SMOKEY
Goldilocks. What do you know about bears other than the three bears?
GOLDILOCKS
Plenty. I'm a very smart ignoramus. There are black bears, brown bears, polar bears, gummy bears. That's a bear with no teeth. Bare knuckles, bare naked.
JERRY
I can't bare listening to you anymore. My guests Smokey the Bear and Goldilocks.
SMOKEY
Folks. Only you can prevent forest fires, because I've been furloughed.
The Jerry Duncan Show
(c) Dean B. Kaner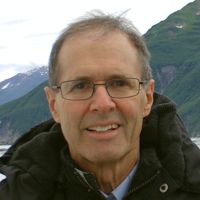 Latest posts by Dean Kaner
(see all)