by Nancy Freiberg and Jon Mathis
The Wall Street Journal recently reported that more than 70 percent of people battling each other over Black Friday sales this year – traditionally the time to buy loved ones Christmas or Hanukkah presents – were actually buying stuff for themselves.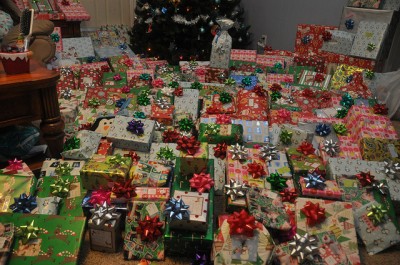 That's right. Why waste your time buying presents for other people if we can't be 100 percent sure that they'll like them? If you buy something for yourself, how can you go wrong?
So why not reflect this delightful change in the seasonal music we listen to? We could update that incredibly musically intricate "Dreidel, Dreidel, Dreidel" Hanukkah song, but that would be too easy and there are rhyming issues:
("Dreidel, Dreidel, Dreidel, I made it just for me… and when it's dry and ready, I'll give it to myself…")
So… how about updating that Bing Crosby classic "It's Beginning to Look a Lot Like Christmas"?
It's beginning to look a lot like Christmas
Ev'rywhere I go;
Take a look in the stores and then, buy myself a designer pen
and big TVs and diamond rings aglow.
It's beginning to look a lot like Christmas
Stuff in ev'ry store
But the very best part is to see is the presents just for me
Filling every floor.
A pair of designer boots and some great gourmet fruits
Is the wish of me and me
Robots that talk and will go for a walk
Is the goal of my shopping spree
More gifts for me's what matters, you can keep the lights and tree
It's beginning to look a lot like Christmas
Ev'rywhere you go;
There's a car that I want to buy, another one just to try-
a four-wheel drive that doesn't mind the snow.
It's beginning to look a lot like Christmas;
Soon I'll get my stuff
And the thing that will make it fine is that every present's mine
'though it's not enough
Latest posts by Nancy Freiberg
(see all)