'They do not like you, Barack Obama, on a train, a plane or a llama' – Jon Stewart, in one of the great segments on The Daily Show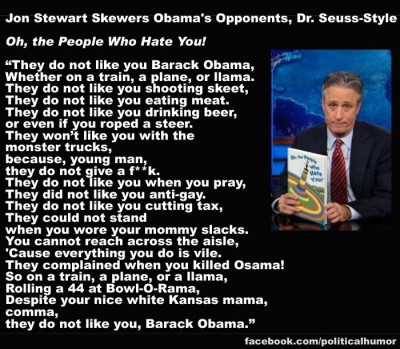 In one of the most memorable Daily Show segments ever, Jon Stewart recently channeled Dr. Seuss with a 'book' called "Oh, the People Who Hate You!"
It was after the president's crew attempted to pacify the Obama haters, regarding his claim that he actually likes shooting guns — at least while targeting skeet.
They released the photo all the doubters had been clamoring for, but of course, that did not satisfy the headhunters on Fox News or talk radio.
Jon Stewart's segment deftly illustrates just why this is so, and why no effort to pacify the haters will ever work.
Video clip:
The Daily Show
From Wikipedia: In 1999 Stewart began hosting The Daily Show on Comedy Central when Craig Kilborn left the show to replace Tom Snyder on The Late Late Show. The show, which has been popular and successful in cable television since Stewart became the host, blends humor with the day's top news stories, usually in politics, while simultaneously poking fun at politicians and many newsmakers as well as the news media itself. In an interview on The O'Reilly Factor, Stewart denied the show has any intentional political agenda, saying the goal was "schnicks and giggles." "The same weakness that drove me into comedy also informs my show," meaning that he was uncomfortable talking without hearing the audience laugh.
The following two tabs change content below.

The
Humor Times
is the "World's funniest news source!" Sure, we like to inform our visitors, but in a playful sort of way. We believe political satire is one of the best ways to help folks let down their defenses and see things in a new light, as well as to help bring haughty leaders back down to earth. Plus, it's just plain fun! The
Humor Times magazine
(delivered to your door 12x/year) is a great way to enjoy this brand of humor, it makes a wonderful gift, and
SUBSCRIPTIONS
are very affordable!

Latest posts by Humor Times (see all)