New social site big hit with anti-social dictators everywhere
TEHRAN, IRAN – For Mahmoud Ahmadinejad, life as a dictator is starting to take its toll.  His answer: FASCISTBOOK.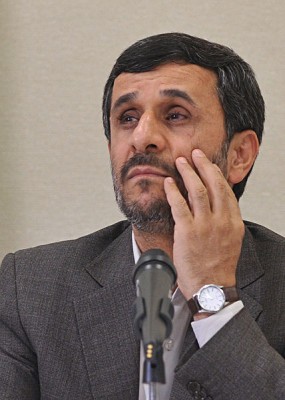 In an extremely candid and colorful interview with this news agency, the Iranian leader showed us his vulnerable side and talked about how his important position and responsibilities have not come without their costs.
"Being a beloved despot is not as easy or glamorous as some might think," Ahmadinejad revealed.  "There are too few leaders who can relate, you know—who do what I do day in and day out.  Honestly, it's lonely at the top of tyranny."
So Mahmoud, while working with Microsoft on his latest censorship programs, created an innovative networking site as "a solution to the strain."
Mahmoud was asked about how he thought his site would stand up against other well-known social networking sites and if he had gained any inspiration from his competitors.
"Fascistbook is the first of its kind and completely original," Mahmoud said, obviously referring to the site's similarity to another well-known social network.  "I began working on it thirty years ago, before I invented the internet.  How about that, spawn of Satan?!  (Taking a minute to compose himself…)  My apologies.  You can see now why I'm sometimes referred to as Mahmoody."
"We dictators need a place to connect with each other and share what's going on in our lives.  I mean, where else can Mugabe and Assad upload photos of genocide or Kim Jong Un post videos of ballistic missile tests, and then comment on them?  Not to mention the fun factor, too.  The other day, Omar and Than Shwe both added me as a friend!"
The following two tabs change content below.

Jeff Boldt is an English teacher living in China and the writer and editor of
Iron E-News
, a website dedicated to that ever-abiding alternate bizarro world -- at times all too closely mirroring our own.

Latest posts by Jeff Boldt (see all)