Journal entry: March 2, 2002 (age 32) — St. Patrick's Month
This week a friend from college called me, and at some point in the conversation he asked what I would be up to this weekend.  "Oh," I replied, "I'll be going to the St. Patrick's parade and the Binghamton Police Emerald Society party."  There was silence for a moment, and then he said,  "I know you're Irish, but isn't St. Patrick's Day, like, a couple of weeks away?  And are you a cop now?"
I explained to my uninformed pal that in Binghamton, St. Patrick's is a weeks-long festival, like Mardi Gras or the Hajj.  There are parties, Masses, concerts, and pub-crawls that must be observed.  Many of these events are followed by a Day of Atonement, in which we pay for the sins committed the day before, generally by way of loud sounds and bright lights.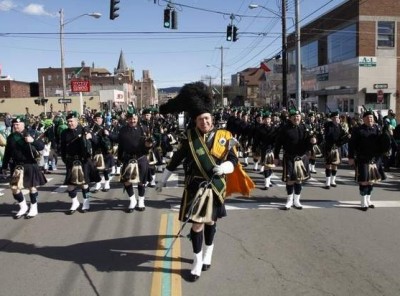 My wife, Amanda, loves parades, so we usually go down to Court Street to see the floats and marching bands.  A few years ago, I managed to take a decent photo of then-Governor George W. Bush marching in the parade as part of his presidential campaign.  Smart pols know that many people, when they enter the voting booth, think to themselves, "Let's see – who have I seen walk down the street?  Was he or she a good, strong waver?"
After the parade, we made our usual pilgrimage to my old high school, Seton Catholic Central.  They host a performance by bagpipe bands in town for the festivities.  The pipers and drummers were amazing, and the sound of a large group of them in an enclosed space was powerful and moving.  Then it was home for a nap and dinner, to prepare for the centerpiece of the day's events.
The Emerald Society throws a great party.  St. Michael's church hall in the First Ward can barely contain it.  As usual, Amanda decided to sit out the event.  One reason is that she dislikes large parties and bars.  The other reason is that she knows I will likely go a bit overboard in "embracing my heritage."  Ever supportive, she will be waiting for me when I get home, with cab fare and a couple of aspirin.
But the night is still young.  A larger group of pipe bands will be playing soon, filling the banquet hall with the sound of pride and heartbreak.  In the meantime, I am laughing and people-watching with the fabled West Side McKinney clan, who are legally required to attend this and all other Celtic-themed events.
I just spotted my niece, Jennifer Mollen, being chatted up by one of a large contingent of Scranton firemen.  Don't they have their own parties to go to?  I'm a little worried that they might get into a rumble with our local police, with both sides snapping their fingers and waving switchblades.  If the plumbers from Plattsburgh or the oncologists from Oneonta join in, things could get out of hand.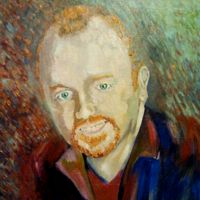 Latest posts by Tim Mollen
(see all)