Best Actor nomination should have gone to Curly in "The Three Stooges"
It was an incredibly audacious act of snobbery that the truly classic Three Stooges movie got totally panned for any Oscar whatsoever at the most recent Academy Awards Ceremony.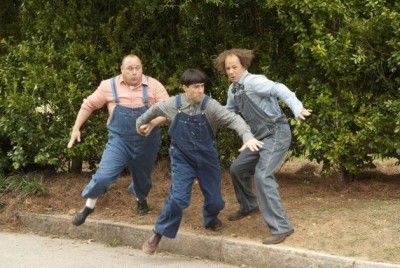 To begin with, the producer should have gotten an award for even thinking of the idea in the first place. True genius – remaking the Three Stooges, the cultural inspiration and societal high point of many male adolescents growing up in the 30's to the 60's.
Curly, Moe and Larry were role models to the majority of males in this country and should not be belittled. If there is a monument to Washington and Lincoln in Washington D.C., then there should be a tribute in stone to these three stalwarts of eyes pokes, face slaps and butt kicks. They truly define a crucial element of the American character.
Best Actor nomination should have gone to Curly, perfectly embodying his famous mold – the hapless knuckle-headed baldy. That it should go to Daniel Day-Lewis, a definite acting inferior by comparison instead shows how the Academy cannot detect the nuances of Curly's performances. For example, his el Toro dance before he head butts someone attains the skill level of a Bolshoi ballerina. Day-Lewis portrayed Abraham Lincoln – how could that even begin to compare to playing the immortal Curly?
Moe too had his chops down, fully equaling the ear twisting, nose tweaking obnoxiousness of his mentor.
Best makeup should go to the talented person who got Larry David to look like a nun (It did help that he was pretty ugly to begin with.) A special effects nod could also be given for having David (aka. The nun) get conked by a falling bell from a church steeple, something that a lot of us loved to see and will play over and over again on our DVD machines.
Best costume should go to the genius who designed the super hot bathing suit for Sister Bernice, setting a standard no mere bikini can match. It was unforgettable, especially for all we males watching the film. Anyone of us would be happy to give her a prize, although in many cases it would be a rude one. If she cannot get a prize for best skin exposed in a film, then she should at least get a shot at being the Pinup of the Month for Playboy
Sophie Vergara, unfortunately more dressed that Sister Bernice, put in her bit as a corrupt gouger out to screw (in the non-sexual sense of the word, again unfortunately) the three heroes. Her body alone should have gotten the Best Supporting Actress award, with some parts of her curvature doing really major support efforts.
The hairdressing team were golden; to get Larry to look like Larry is an art. And one has to look far an wide to find the right size bowl for Moe's coiffure. Curly's do was without question priceless.
Stunt choreography for this film was an art all of its own. Rumor has it that the local ER was on high alert during the whole filming. Specialists in eye poke treatment were always on hand.
Sexy songstress Jennifer Hudson also played a singing nun, unfortunately not winning another Supporting Actress Award to put up next to her one for Dreamgirls. With her drop in weight Jennifer is more a Dreamgirl than she was in the original.
A truly glorious segment that will live forever in the annals of American movie history is Moe successfully tricking Snookie of Jersey Shores into an eye-poke. Without a doubt a classic scene that will live forever!
The continuous attitude of the Academy Awards people to snub the Three Stooges has led to the decline of their truly unique art form. They deserve a downward fist pound to the back of the head and then a finger jab to the abdomen when they buckle over from it.
A secret plot for revenge  is underway which will have the threesome infiltrate next years presentation and, due to their presence alone in the building, create so much havoc that they will make Seth MacFarlane stint as MC look like Winnie the Pooh in a children's parade by comparison.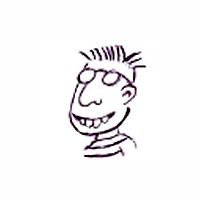 Latest posts by Roger Freed
(see all)