Carnival reimbursed the U.S. for rescuing two liners stranded at sea with overflowing sewage early this year. In their new ad campaign, Carnival promises to treat you like a king or queen. That's because no one will board the ship until they see the chamber pots.
Oklahoma City residents were shocked Tuesday when they felt two earthquakes hit the city measuring nearly five points on the Richter scale. It's a sign of the times. The California economy is so terrible that even the earthquakes are moving back to Oklahoma.
President Obama hailed Alabama's Crimson Tide as college football champs Monday. It followed official observances for Passover, Easter, Ramadan and Persian new year. He hopes everyone will get off his back now that he's honored every major religion in America.
Harvard Law School in Cambridge announced that its spring courses include a discussion class called Understanding Obama. The class meets once a week. Not to be outdone, Barnum and Bailey's Clown College in Sarasota offers a course called Understanding Biden.
Senator Roger Wicker was mailed poison ricin powder Tuesday in Washington. This always prompts swift action. If people in Los Angeles receive any mysterious white powder in the mail we're instructed to inject it immediately into a wrinkle to see if it helps.
The Pentagon canceled its new U.S. medal for drone operators Wednesday. The VFW was furious that it ranked higher than the Purple Heart. When you see the drone operators working in the house trailer in Nevada you realize they shouldn't get anything more than a free game.
Senator Marco Rubio proposed allowing illegals to stay in the U.S. if they have a clean record, pay a hefty entrance fee and have a good-paying job. Somehow you knew the GOP immigration bill would have the same rules for entry as the Los Angeles Country Club.
President Obama sent no one to represent the White House at Lady Thatcher's state funeral Wednesday. It's spiteful. Ever since Prince Harry was photographed machine-gunning the Taliban from his helicopter and partying naked in Las Vegas with beautiful chicks, President Obama has suspected deep-down that he's no longer the people's darling.
John Boehner sent a GOP congressional delegation to Lady Thatcher's funeral. It was a nostalgic day for Tory imperialism, The U.S. House Members were joined by James Baker and Dick Cheney, known throughout the Mideast as the Left Jab and the Right Hook.
Michigan Governor Rick Snyder appointed a search committee to find a bankruptcy turn-around specialist who can help reverse Detroit's financial catastrophe. It won't be easy. Detroiters are so combative it's the only city in America that has a North Koreatown.
Dennis Rodman said Monday that Kim Jung Un has invited him back to North Korea on the first of August. How cocky. Considering the way Kim Jung Un likes to threaten war and Dennis Rodman likes to party, the first of August isn't guaranteed to either of them.
North Korea's Kim Jung Un warned that he will attack without warning if the insults don't stop. He's furious. Kim Jung Un was told through back channels Monday to play with himself for one week because the U.S. is dealing with something important right now.
Jackie Robinson's biopic is a hit that spotlights Branch Rickey and Jackie Robinson's efforts to integrate baseball. The movie makes a point that both men were devout Methodists. That means they could have accomplished something important on the golf course if they hadn't thrown their lives away on frivolous pursuits like social justice.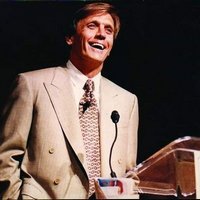 Latest posts by Argus Hamilton
(see all)