The Humor Times celebrated its 22nd Anniversary with the hilarious national touring political comedy troupe, the Capitol Steps on May 5, 2013 (video clip)
The Humor Times celebrated its 22nd Anniversary Issue in style by bringing the hilarious and nationally popular Capitol Steps comedy troupe to Sacramento last Sunday, May 5th. They performed at the Clarion Inn on Arden Way, to a crowd of about 250 people, who, judging from their constant laughter and occasional loud guffaws, had a great time. We hope to present them every year around this time, so bookmark this site and 'like' us on Facebook, and stay tuned!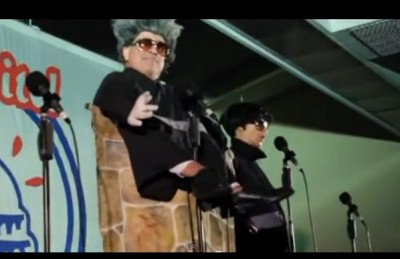 The Capitol Steps are renowned for their unique brand of musical political comedy, lampooning all sides in national politics with a non-partisan, equal-opportunity bashing that leaves no political party unscathed.
They did not disappoint.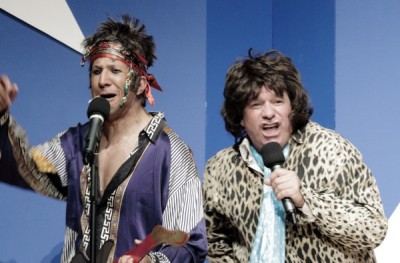 Through a fast-paced set of songs and skits, the wildly popular group presented a hilarious show, sending everyone home with big smiles on their faces.
We're posting a video clip of the show here, with more to come soon. Shot by Larry Ramos, we present it for the benefit of those who could not attend — as well as for those that did, so they can relive the fun!
The Capitol Steps act is constantly evolving, as they dig into the headlines of the day for more fodder for their biting satire. Their motto is "We put the MOCK in democracy!"
Since they began, the prolific comedy troupe has recorded over 33 albums, including their latest, Fiscal Shades of Gray. They've been featured on NBC, CBS, ABC and PBS, and can be heard 2 times a year on national public radio stations nationwide during their Politics Takes a Holiday radio specials.
The Capitol Steps are the perfect on-stage sister to the printed (and online) Humor Times, which has been parodying national politics for 22 years with its monthly magazine.
Originally titled the Comic Press News and distributed free all over the Sacramento area, the Humor Times was converted to a paid circulation magazine in 2008. It is available worldwide, in print or digital formats. Subscription information and a secure order form can be found here.
Here is a video of the Capitol Steps from May 5th. (We'll be posting more clips from this performance soon, so check back!)