Journal entry: July 5, 2008 (age 39) – Dancing Near the Stars
Today, my wife, Amanda, and I are in Los Angeles for the wedding of our friends, John Ducey and Christine Moore.  I've been buddies with John since our days at Seton Catholic Central High School, and over the years I've watched with pride as his career as a television and film actor has grown.  Christine is also an actor, and both of them have had some success.
Happily, their wedding ended up coinciding with major career boosts for both the bride and groom.  John was recently cast as the father on this fall's Disney Channel TV series starring the Jonas Brothers.  (If you don't know the Jonas Brothers, ask anyone under the age of 16.  They're kinda like three, male Hannah Montanas.  Wait, that sounds way creepier than I intended…)  Meanwhile, Christine just landed a recurring role on this fall's new version of the TV series Beverly Hills 90210.  (If you don't know 90210, ask anyone between the ages of 25 and 45.  It's kinda like a rich neighborhood with full employment for anyone named "Spelling.")
At the reception, I did my usual excellent job of dancing like a swami who's hit with a crisis of faith halfway across the hot coals.  I took a coronary prevention measure (otherwise known as a "dance break") and struck up a conversation with John's friend, Nicole Sullivan. Nicole was the first break-out star from Mad TV, and went on to roles in The King of Queens and Kim Possible.  As we chatted, I found her so charming and down-to-earth that I felt comfortable enough to make a cheesy, touristy request.  I asked her to walk up to Amanda, who is a big fan of hers, and say a line as one of her Mad TV characters – a lovable dimwit named Antonia.  Nicole immediately complied, and with one laterally lisped word, made Amanda's night.  ("Congrachulayshuns!")
The three of us chatted for a few minutes, until someone tapped me on the back. Immediately, I thought, "Oh great, here's my chance to talk to someone who has the kind of career I aspire to, and now I'm going to get sidetracked."  But that feeling evaporated as soon as I turned around.  There, about a foot-and-a-half down, stood a lovely girl of 10 or 11 years to whom we had been introduced earlier.   She's a cousin of the groom, and her name is Katie Kennedy.  Katie looked up at me with a bright smile and said "Hey, Mr. Dance-man, why aren't you out on the floor?"  I laughed and said that I was just taking a little breather.  Amanda poked me in the arm and said, "I think she's asking you to dance."  "Oh," I said.  "Are you asking me to dance?"  She nodded, smiled, and pulled me by the arm to the dance floor.
We settled into an awkward, Mutt-and-Jeff box step to the strains of "The Way You Look Tonight." I told Katie that she had excellent taste in music and asked if she knew who was singing.  She said no, and I said, "That's Frank Sinatra."  She shrugged her shoulders and said, "Never heard of him."  Fighting the cognitive dissonance of meeting a Kennedy who doesn't know Sinatra, I told her that she would get to know and love Frank when she gets older.  When the song ended, I thanked the little lady for our dance.  Back by Amanda's side, I said that this was the best, only-in-Hollywood moment yet – dancing with someone who is hip enough to prefer the brothers Jonas to the Sinatra Frank, and naïve enough to think that I'm a good dancer.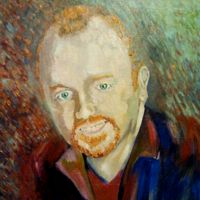 Latest posts by Tim Mollen
(see all)