If you thought Breast Cancer Awareness Month had peaked with the White House "glowing pink," think again
Just when we all thought the National Breast Cancer Foundation had topped itself this month by talking the White House into "glowing pink" for Breast Cancer Awareness Month, many witnessed a rare treat in the western sky on October 31 to mark the end of the month-long campaign against one of the worst diseases to strike women all over the world.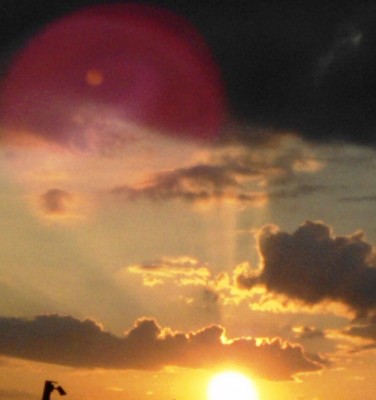 "Look, mommy," said Samantha Jones, a first grader at Long Island Elementary School to her mother, pointing at the sky around dusk. "It's a giant pink boobie." Indeed, what Samantha was seeing was a giant pink breast shining in the western sky reminding everyone just how huge a problem breast cancer is.
"We wanted to go out with a bang," claims the foundation's manager in charge of public relations, who admitted the foundation was getting some negative feedback from some folks who claim that there was just too much pink this year.
"We were told by quite a few people that while they were behind finding a cure for breast cancer, they had about enough of the pink for everything from t-shirts and mugs to pink glow-in-the-dark gummy breasts" (a specialty item made for several bachelorette parties for the rich).
Sure, lighting the White House in a rosy glow was a pretty huge feat," said Johanna Whitcomb, "but the large pink breast glowing from space, well, we when we were approached by a company by the name of Hugh G. Productions and told they could pull this off, we had no doubts that it could and should be done."
Whitcomb says that by and large, the reaction to shining a huge pink breast in the western sky was positive. She did admit that a few mothers called to tell us that it was a bit over the top, especially since there would be young impressionable male children who might witness the event, "but overall," she said, "we couldn't pass up the opportunity to shine the largest breast we could to remind everyone that this is a huge, huge problem."
Asked if Whitcomb could say what is in store for next year's Breast Cancer Awareness event, she replied she could not. "I mean, c'mon. Short of having the space shuttle pull a pink banner behind it on its next trip around the earth, I think we pretty well nailed it with the pink breast."
We couldn't agree more.
Latest posts by P. Beckert
(see all)