Twas the Night Before Christmas, revisited
Twas the night before Christmas
and all through the house
not a creature was stirring
we were all totally soused.
The stockings were hung by the chimney with care
with the kids still in them so they'd be out of our hair.
They were stuffing candies into their heads
as visions of cavities filled us with dread.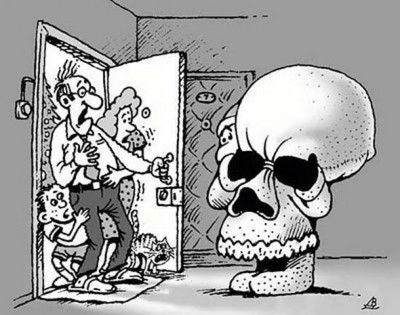 Momma and I settled down for a long winter's nap
right after a run to the bathroom for a late night cr__.
When suddenly outside I heard such a clatter
that sounded much like someone's skylight had shattered.
Away to the window I ran to the crash
tore open the shutters and threw up the sash
just in time to hear a very loud bellow,
"Rudolph, you're dragging your hoofs too low."
When what to my gin-bleared eyes should appear
but some guy in a clown suit with a really big rear.
The little old driver seemed like a real hick
I knew I was wasted 'cause it looked like St. Nick.
More rapid than beagles chasing down game
he made damn sure they knew who's to blame.
"Now Dasher, now Dancer get off poor Blitzen.
On Comet, on Cupid we've got to be gitzen.
Then what he said was even more off the wall
"Now dash away, dash away and try not to fall."
As dry leaves that before the hurricane fly
they tried to take off with this big, fat guy.
So up to the house tops the courses they flew
with a sleigh full of toys and the big red loo-loo.
As I stood there silent like a hypnotized goof
I heard them land upon my very roof.
Down my chimney St Nicholas came with a bound
crashed through the floor and onto the ground.
His clothes were all covered with ashes and soot
which dirtied the floor when I gave him the boot.
The cute little toys that he had on his back
felt just like bricks when he gave me a whack
His eyes how they twinkled, his fist how hairy
as he punched me in the nose when I wasn't even wary.
His droll little mouth was drawn up like a bow
I noticed as I staggered about from the blow.
I saw the stump of a pipe he held tight in his teeth
as I gazed up from the table I hid underneath.
He had a broad face and a little round belly
that could indulge and digest an entire deli.
"I had better watch out!" I said to myself
"I wouldn't want it known I'd been done in by an elf!"
A wink of his eye and a twist of his head
as I lay on the floor pretending to be dead,
He spoke not a word but went straight to his work
and cleaned out the fridge right down to the cork.
They laying his finger aside of his nose
without even a tissue the damn thing he blows
the sound of which made my backbone gristle
as he sprang to his sleigh and to his team gave a whistle.
But I heard him exclaim as he drove out of sight
"Seems you can't even come in for a bite
without someone wanting to get into a fight
but Merry Christmas to all and to all a good night!!"
I then got an aspirin and went back to bed.
Screw the rhyming.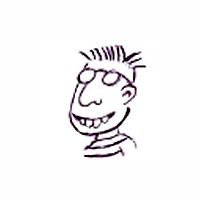 Latest posts by Roger Freed
(see all)