Entertainment news stories predicted
Yes, folks, it's that time of year again when the famous Psychic to the stars, Crystal Ball, gives us a peek into future entertainment news stories.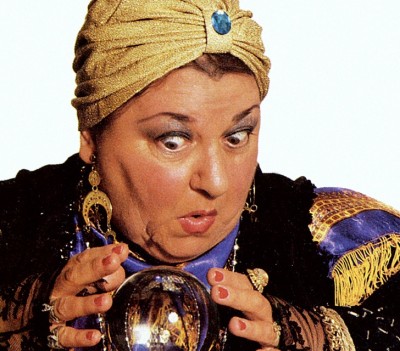 This time, she is narrowing her predictions down to the music and entertainment industry. For example, Ball claims that twerking (the sexually provocative dance craze sweeping the nation — at least the part of the nation that dwells in trailer parks) will, once again, dominate music headlines.
So, without further adieu, here are Crystal Ball's predictions for the top ten entertainment news stories of 2014:
1. Twerking will be added as a new category on the hit reality television series, Dancing With the Stars, and as such, the only celebrities who will agree to perform will include Brittany Spears, Perez Hilton, and several members of the Cyrus family. The gamble taken by the producers of the show on this decision will prove costly as it will spell the end of one of the best reality series on television.
2. A tiny, four-year-old singing sensation from Boulder, Colorado, will win top prize on America's Got Talent with her adorable rendition of "Twinkle, Twinkle, Widdle Star."
3. A completely re-vamped Soul Train will begin production in early 2014, with hit pop star Justin Bieber at the helm. The show will prove to be a humongous flop and producers will end up issuing a public apologizing to the family of the original Soul Train host, the late great Don Cornelius, for making such a bone-headed decision to hand over the reins of the show to a white kid from Canada. The new show will air only three episodes before slowly fading into "obiebion."
4. In another top entertainment news story, an inebriated Billy Ray Cyrus will confront Robin Thicke early in January at a swanky Los Angeles night club and accuse Thicke of not getting properly aroused when Cyrus' daughter, Miley, twerked him during the 2013 VMA awards. Thicke has repeatedly denied not getting aroused and will eventually shake hands with Cyrus and assure him that in the future when being twerked by Miley, he will not only get aroused but will also take her on the spot to prove the nubile performer is worthy of a romp.
5. Richard Simmons gets in on the twerking craze by announcing yet another new exercise video entitled "Twerking to the Oldies."
6. Denver, Colorado will become the next largest music capital of the world as the first of the year sees the recreational use of marijuana legalized in that state. Musicians no longer feeling the need to hide their consumption on and off the stage will flock to Denver as their favorite place to make music. Los Angeles and New York City will see a precipitous fall in celebrity residency forcing mayors of those cities to petition their governors to allow a referendum on legalizing the recreational use of the drug in their states as well in order to retain their fair share of the music business.
7. Abbey Lee Miller, the extremely overweight dance instructor in the reality television series, Dance Moms, will pull a hamstring while showing her "girls" how to twerk. The episode in question will have the teen dancers twerking on young teen boys dressed like Robin Thicke, but will have to be scrapped after Miller falls on one of the boy dancers causing him serious harm.
8. Kate Gosselin (remember her?) will try auctioning off her hair extensions to keep her and the kids out of hock until she can find another television gig or can sell another book about her once-glamorous life as a TV mom. Rumors will circulate that Kate and Jon (remember him?) will be asked to do a re-make of the 60s hit television series The Brady Bunch, if the Gosselins agree to give up two of their children.
9. Lady Gaga and Taylor Swift will tie for first place for "Women with the most grudges held against them," and will decide to start a feud between themselves to get even more attention, thus increasing their grudges-against-them quotient.
10. Charlie Sheen will change his name back to Carlos Estevez, leave television for good, and run for the office of Mayor of Los Angeles. He'll win by a landslide but soon thereafter will be kicked out of office after it is learned that he bribed voters in the poorest sections of the city with booze and cigarettes.
11. Americans will be tired of the word twerking by 12:01 a.m. January 1, 2014.
Latest posts by P. Beckert
(see all)