The rainbow, international symbol for their movement, shocks gay community
In what is being hailed as the most highly viewed TV moment of all time, the Rainbow came out of the cosmic closet yesterday and announced on The Ellen DeGeneres Show that she is, in fact, a heterosexual.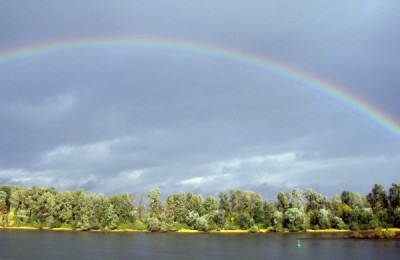 For much of history, the inspiring optical phenomenon was assumed to be purely asexual.  But then, since the 1970's, everyone naturally assumed it had turned gay.
"I know I've been associated with homosexuality for quite some time now but I just gotta say…I'M IN LOVE WITH BLUE!  Whew.  Thanks for letting me get that off my chest, Ellen.
I have a lot of gay friends across the spectrum who are going to be so shocked by this but, you know, a rainbow has to stay true to her colors."
Just after the big revelation, the multi-hued spectrum announced her engagement with the sky, confessing a life-long attraction and powerful bond between the two.
"What started out as completely one-sided has grown into something quite magical.  We hope to settle down along the horizon and, one day, maybe retire near a sunset."

Latest posts by Jeff Boldt
(see all)