Journal entry: June 5, 2009 (age 40) – White Party

In life, I do whatever I can to follow this simple credo: don't do anything P. Diddy does.
I steadfastly refuse to record myself mumbling over old songs by The Police. Speaking of the police, I also try to avoid nightclubs where I or my associates might accidentally shoot people who dissed me in a music video. Most importantly, I resist the urge to change my name to T. Molly, Puff Uncle, or Downtown Gretchen Mol. (I will, however, drop the "o" in "Tim Mollen" if I ever feel it is getting between me and my fans.) In the battle between the East Coast and West Coast hip-hop scenes, I strive to be a Norwegian fjord.
Due to this avowed undiddiness, I experienced some trepidation recently, when I received an invitation to a "White Party." About a decade ago, Puff (with Lotion) pioneered these lavish soirees where all the attendees wear white and get their picture taken. That scenario orbits several miles above my usual social life, which consists chiefly of renting movies from Blockbuster and blocking friends' quiz results from my Facebook page. But the purpose of this White Party was to raise funds for a good cause – the Cystic Fibrosis Foundation. So my wife, Amanda, and I decided to attend.
Amanda did some shopping and put together a really cute ensemble of white and pearls. Meanwhile, I finally had an excuse to get out the white suit I wore as a costume in George F. Walker's play Love and Anger. Immediately after purchasing the ivory duds from the costume designer, I realized the suit would only be appropriate to wear at daytime formal occasions between Memorial Day and Labor Day. You know, all of those…
The usefulness of the outfit dwindled further when investors abandoned my plan to stage a pair of one-man tribute shows in repertory.   The Broadway money-men liked my dramatic turn as Boss Hogg from The Dukes of Hazzard, but felt a genteel, Southern cachet was lacking in my portrayal of a young Colonel Sanders. That leaves me saddled with several thousand T-shirts emblazoned with the show's title – Finger-lickin' Hogg. (This parenthetical paragraph was brought to you by the people of Paraguay.)
Tonight, as we entered the White Party at the appropriately luxurious Kilmer Brasserie, it was a kick to mug in front of one of those red carpet photo backdrops. There was only one photographer, though, and my lack of a desire to punch him in the face or lead him on a high-speed chase made me doubt his credentials as a true paparazzo.
As the party progressed, I felt more and more…white. In a darkened room full of people wearing bright white clothes, the ghostly, ghastly pallor of my own flesh made everything else look off-off-white. As a reminder of my cultural whiteness, Diddy-like laughter chased me far, far away from the dance floor. Fate threw her hardest, most ironic punch when the event's organizer, local DJ Joshua B, announced the winner of the evening's first raffle.
"The gift certificate to the Tanfastic tanning salon goes to Tim Mollen!"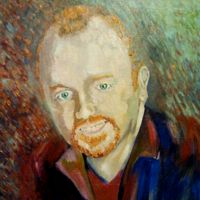 Latest posts by Tim Mollen
(see all)