Middle Eastern terrorists bummed annual time of 'fun and relaxation' won't happen
By Mike Kelly and P. Beckert
The annual winter retreat of Middle Eastern terrorists organizations was abruptly canceled this week due to differences of opinion on future strategy.
A yearly meeting of various groups to get together and reminisce about lost fellow members, change in the color of headgear, and discuss the influx of recent satirical news items that have drawn their ire, will not take place in January 2015, as scheduled.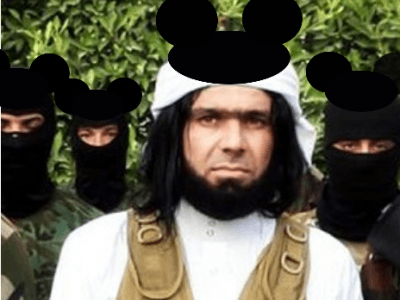 Most of the tension was created, say terrorist watchers, by the sudden push by the ISIS group to demonstrate their power and control at the expense of the long-term strategies of other radical groups.
Showing a total disregard for the thoughts and beliefs of their comrades, they have continually pushed ideas that force other groups to move further to the right in their own activities, many times against the wishes of their own constituents.
The upcoming retreat was expected to bring together the top leaders of several important terror players including, Al Qaeda, Hamas, Ali Baba and the Forty Thieves, and top members of the Kremlin.
According to a Syrian travel agent at Global Terrorist Tourism Group, the gathering had originally been set to take place at the sunny Walt Disney World resort in Orlando, Florida. Many of the participants were especially looking forward to getting together on the "It's A Small World" ride, until they found out there was no representation of terrorists in that exhibit.
"Do we not make part of the Small World we all inhabit?" decried Al Qaeda leader Ayman al-Zawahiri.
Current drone target, Abu Bakr al-Baghdadi, entertainment director for ISIS, was especially disappointed by the sudden change in plans. Having what he believes to be his best year of leadership, he had expected to continue being the center of attention during the 5 day, 6 night group package that had been selected.
The cancellation came as quite a shock to al-Baghdadi, and many of his allies stated they haven't seen him reach this level of depression since he found out his prized Rolex was, in fact, a fake.
Through an interpreter Abu Bakr, or "Abe" as his closest friends call him, says he was very disappointed he wouldn't be able to see Vladimir Putin wrestle with Liver Lips McGrowl at the Country Bear Jamboree Exhibit.
In addition, there were quite a few rumors floating about throughout the terrorist world that Abe had already booked a breakfast at Cinderella's Castle, hoping to personally meet the various Disney cast members, especially Princess Jasmine, the Arab-American Princess from the movie Aladdin. It is said that Abe wanted to present her with his mother's own Burqa, so that she could cover herself instead of parading around the park like a common (expletive).
Meanwhile, the spokesman for the group tried to downplay the true impact of the cancellation by pointing out the daily struggle they have in just using one name.
"Some of our regional leaders are going by ISIS, some by ISIL. Do you have any idea how hard it is to even cash a check when you aren't sure which ID they are going to require? If we were American, can you imagine the trouble we'd have trying to convince elections officials to let us cast a vote?" stated Alman alQuerty.
"We are actually more disappointed in the fact that those capitalist American infidels will not even return our deposits, even though we paid them in Bitcoin."
As a further blow to the already deflated ego of Abe, ISIS got word from Halliburton, their logistics support contractor, that they also refused to give a full refund on the cancelled trip. Halliburton was purportedly hired as the best choice make sure there were enough armaments in case one or two of the terrorists got a hankering to blow something up.
After checking with the WDW resort, we were informed that the terrorists clearly violated the terms of the agreement by not giving enough notice of cancellation, especially in light of the fact that WDW went to great expense to ship in halal meats for the terrorists' arrival.
"If anything, we lost money on the deal," said a smiling, freckle-faced spokesperson for the Magic Kingdom, who confirmed that the spot originally booked by the ISIL folks would be going to a fundamentalist church group from Little Rock, Arkansas instead.

Latest posts by P. Beckert
(see all)