"A man doesn't grow a beard, a beard grows a man." – Professor Ronnie Stache
Clean shaven men: Are you feeling a little effeminate, does life seem to be lacking direction?
Perhaps a new addition to your face will remedy any wretched feelings of inadequacy. Well, that's the opinion spouted by Professor Ronnie Stache, the brains behind the book, Jesus Christ, Bearded Superstar.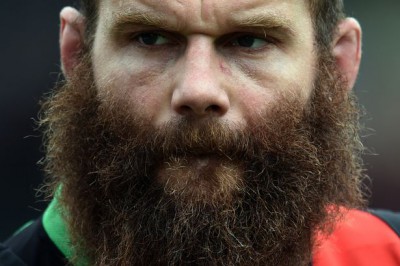 "A man doesn't grow a beard, a beard grows a man," states the Austrian, and it's hard to argue with the sentiment. Today, arguably, a correlation seems to exist between a man's beardcraft and his worth to society.
Long gone are the days when a bushy beard was associated with a fugitive on the run from justice, as are the days when friends and family used terms like drifter and hobo to ridicule their nearest and dearest. These snide remarks have been replaced by compliments, and some people now treat facial hair in the same way a teenager treats a selfie stick, with awe and amazement.
Now, in the age of man bags and male pouting, the beard communicates a traditional, all conquering image, one of an independent, pioneering protagonist, even if our 'hero of the hour' has no discernible credentials or career goals. No longer is male dedication measured by vocation, it is now measured by an ability to manscape. But why are men so obsessed with crafting such a uniquely masculine appearance?
Controversies surrounding the beard can be traced back to the days of Alexander the Great. In 315 B.C., eight years before suffering a heart attack during the largest ever documented orgy, the ruler banned the growth of beards, believing that they served only to distract during combat. Future generations of rulers, including King Henry VIII, Elizabeth I and Peter the Great, went one step further. They opted to introduce a "beard tax," and in early 18th-century Russia, believe it or not, a pay to display culture existed, where bearded men were ordered to carry a "beard token" to prove they had paid for the privilege. Although, there was an upside: ten tokens earned you a free beverage at Russia's first ever coffee shop; Tsarbucks.
Along with Harriet Beecher Stowe's electrifying novel Uncle Tom's Cabin, and the much acclaimed follow up, Uncle Tom's Condo, the nineteenth century was a period of unprecedented radical economic and social change in the US. Women demanded to be heard, they began the fight for equal rights.
This revolution sent men searching for a new sense of identity, a tangible quality that women couldn't infringe upon.  There were real signs of metrosexuality present, everything from side-whiskers to mustaches, and especially monstrous chin-straps, otherwise known as beards, started to dominate the scene. With some looking like Daniel Day-Lewis in Gangs of New York, the sadistic, anti-immigrant gang leader who believed revenge was a dish best served cold, and preferably with intimidating facial hair, a major transformation was evident.
In more recent times, the popularity of beards has, well, grown. A quick Google search on the subject of men with beards generates three image results; George Clooney, Abraham Lincoln and Zach Galifianakis, an unlikely, extremely hairy grouping. Besides their enthusiasm for Tantric Yoga, the three cultural  behemoths possess one other similarity: an ability to pull off a fantastic beard.
Some say masculinity no longer has anything to do with wrestling bears or the ability to knot a tie while rescuing a child from a burning building— though both of those abilities are rather impressive. No, masculinity seems to share an intimate relationship with an ability to cultivate a fuzzy, facial forest.
A Beard Team USA exists, for crying out loud. Competitive bearding has been 'a thing' in United States since 2003. Phil Olsen, Beard Team USA founder, is one of the "bearders" responsible for the World Beard and Mustache Championships. With categories including "full beard natural," "beard turban," "full beard styled mustache," "imperial wizard" and, of course, "The John Lennon," global interest in bearding has never been more evident.
People, don't fear the beard, embrace it. In an age of imitation and conformity, in all honesty, this holistic approach to hair is a breath of fresh air. Feeling low, recently divorced, erectile dysfunction? Maybe some facial fuzz can help fill the void.
Please note: Growing a beard is not medically proven to treat erectile dysfunction.

Latest posts by John Glynn
(see all)