The Tony Award-Winning San Francisco Mime Troupe continues its 56th season with free performances of "Freedomland."
A door is blown off its hinges! Into a blasted room of scarred walls and shattered windows, armed with M-16's, America's bravest duck and dodge for cover, finally training their deadly gunsights on … an old black man watching TV on his couch?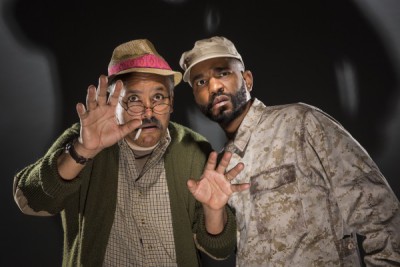 This isn't Baghdad or Kandahar — its home, and for ex-Black Panther Malcolm Haywood it's just another wrong door police raid in the War on Drugs. So of course Malcolm is horrified when the grandson he's tried to protect, Nathaniel, returns from serving in Afghanistan only to find another war zone at home — and one where young Black men like Nathaniel are in the crosshairs.
Meanwhile the Mayor and the Police Chief — one desperate for votes, the other desperate to fund his militarized police force — ramp up the fear (and their shiny new tank) to fight the newest, drug threat to America … worse than weed, meth, coke, crack, or crank, it's … SNORF!! And, of course, the SNORF trade is centered in the … darkest … part of town.
Are the police out of control? What happened to "innocent until proven guilty"? Is Malcolm's neighbor Lluis (an undocumented immigrant,) actually a SNORF-lord? And can Malcolm convince his grandson that it is safer to re-up and fight overseas than to try to survive here at home, in Freedomland?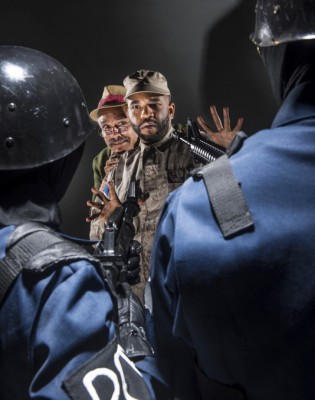 Find out at these free performances coming up in the Sacramento area! (Full northern California schedule at SFMT's website.)
There will be two Sacramento/Davis area performances, as the Tony Award-Winning San Francisco Mime Troupe (no, it's not silent mime!) continues its 56th season with "Freedomland," written by Michael Gene Sullivan, music & lyrics by Ira Marlowe:
SACRAMENTO, 4:30 pm music, 5:00 pm show: Sat., Aug. 29 – Southside Park – 6th and T Streets, Sacramento, 95811
DAVIS, 6:30 pm music, 7:00 pm show: Sun., Aug. 30 – Community Park – 1405 F St., Davis, CA 95616
We at the Humor Times highly recommend catching a show this summer. Check here for their full summer schedule.
Check out SFMT's Facebook page here, and enjoy the trailer below.
History
The San Francisco Mime Troupe has been creating and performing socially relevant theater of professional quality since 1959.
The San Francisco Mime Troupe does not do silent pantomime! They mean "mime" in the ancient sense: to mimic. The actors talk, sing and make a lot of noise. They are satirists, seeking to make their audiences laugh at the absurdities of contemporary life and at the same time, see their causes. Their shows generally debunk the "official story" of the issue they are addressing.
The troupe creates plays that make sense out of the headlines by dramatizing the forces that shape people's lives in small, close-up stories that make audiences feel the impact of political events on personal life. To make this work accessible, the Mime Troupe performs its shows in local parks at a price everyone can afford: free. Donations are gladly accepted, of course, and well-earned.
Founding director RGDavis began in 1959 with avant-garde performance events in lofts and basements. When he discovered Commedia dell'Arte (Italian Renaissance marketplace comedy), he began tradition of free shows in the parks that still thrives today, over 50 years later. Since becoming a collective in l970, SFMT have done melodramas, spy thrillers, musical comedies, epic histories, sitcoms and cartoon epics. Their trademark style draws from all these genres and is based on their common elements: strong story line, avowed point of view, larger-than-life characters, fantasy and live music.