Subway's longtime spokesman, Jared Fogle, will be featured in major biopic.
Once called "America's 6-inch sweetheart," Jared Fogle, Subway's longtime spokesman, now finds himself in a world of trouble. In the words of Frederick DeLuca, Subway's co-founder, "Jared began and ended his career trying to squeeze into smaller pants."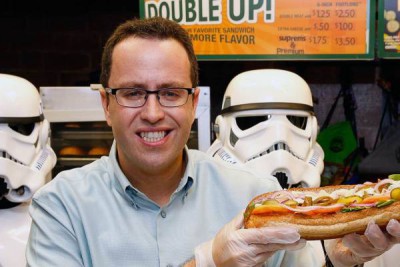 Shortly after Fogle agreed to plead guilty to the charges filed against him, like something out of a fabricated news story, Clint Eastwood made a shocking announcement. The American actor, film director, producer, musician, empty chair talker and really old guy will follow up the spectacular box office success of American Sniper, his masterpiece, by directing Jonah Hill in the story of Jared Fogle's much publicized fall from grace.
Hill, an Oscar-nominated actor all too familiar with meatball sandwiches, was recently offered the lead role. After the dynamic duo's Wolf of Wall Street heroics, it's no surprise to hear that DiCaprio has agreed to play the shamed celebrity's attorney, Jeremy Margolis. The film, "The Good, the Bad and the Fogle," will tell the story of the sandwich lover's rise to fame and subsequent vilification.
Even at 85, amazingly, Eastwood still finds himself the toast of Hollywood. Narrowly edging out Pudsey the Dog: The Movie, American Sniper became the US box office's top-grossing film of 2014. Commenting on both American Sniper and his upcoming movie, Eastwood had this to say: "Although Bradley Cooper played US Navy Seal Chris Kyle in such an imposing manner, the movie was criticized in some quarters for its depiction of the real-life sniper's cold-heartedness. This is what I do, I take debatable characters and try to make them lovable. Man, I certainly have my work cut out with Jared Fogle."
Paul Greengrass and David O'Russell, two well respected directors, had previously considered taking on the highly controversial project, which will boast an impressive film score from the brains behind The Silence of the Lambs, Howard Shore.
Clearly excited by the thought of working with Shore, Eastwood said, "Before Howard penned themes for those hobbits and orcs and Peter Jackson's talking trees, the man specialized in darker, more ominous music. Take Silence of the Lambs, for example, his magnum opus. The music was chilling, and we hope to recreate this sort of atmosphere. Subway will never be the same again."
The Good, the Bad and the Fogle is due to be released in June of next year.

Latest posts by John Glynn
(see all)