By Tim Mollen
Journal entry:  February 26, 1987 (age 17)
"But I'm a captain of the track team this year!"  Dr. Donovan had not expected this emotional response.  His diagnosis of a stress fracture in the foot is more commonly met with a blank expression and a shrugged "Oh."  At any other time in my life, that would have been my response as well.  But today I was one week into what was supposed to be That Championship Season – my senior year on Seton Catholic Central's track team.
An injury now would jeopardize the only chance for athletic success I would ever have.  My times in the half-mile have been improving, and my winning 3,200-meter relay team from last year has three returning seniors.  But with a lame foot I would be hobbled, like William "Refrigerator" Perry with a broken veggie crisper.  I braced myself and asked the doctor how long I would be out of commission.  "Well, Tim, I wouldn't run on this foot for at least a few months."
I nodded sadly.  I knew I had to trust Dr. D.  Not only is he an accomplished podiatrist, but he is also the father of one of my closest friends, Jack Donovan.  Thinking of Jack made me worry about what my classmates were going to say.  I was out for the season, but I wasn't even limping.  I was going to look lazy.  Like a quitter.  "Will I be in a cast?," I blurted out.  Dr. Donovan had never been asked this question with such a distinctly hopeful tone.  "No, you should be able to walk just fine, Tim, and there won't be much pain.  But while this hairline fracture heals, you can't do any running."
The doctor set about fitting me for corrective shoe inserts called orthotics, and then left me alone with my thoughts as the strange, adhesive wraps on my feet cooled and hardened.  Orthotics – terrific.  Just the thing to illustrate a season-ending injury.  "Seriously, Coach, let me take off my shoes and show you.  These are PRESCRIPTION odor eaters!"  When Dr. Donovan returned, I grasped at one final straw.  "Wouldn't it make sense for me to be on crutches for a while?"  Ignoring my incongruous smile, he assured me that I wouldn't need crutches.
As I left his office, Dr. Donovan had one last piece of advice for me.  "Tim, I hate to say it, but you don't have the foot structure for long-distance running.  You may want to take up another sport."  Running had kind of been my last resort, after, um, not succeeding at most other sports.  But as I drove home, I did come up with some ideas.  I could be the first person in the area to earn a varsity letter as a rodeo clown.  I could be a pin monkey at the bowling alley, or an archery target.  I could be the little guy who sits in the front of a crew boat and yells things at the rowers.  But then I'd probably sprain my throat.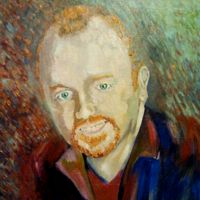 Latest posts by Tim Mollen
(see all)