Says Dalai Lama's tweeting is 'amateur' and that He's making popcorn and watching March Madness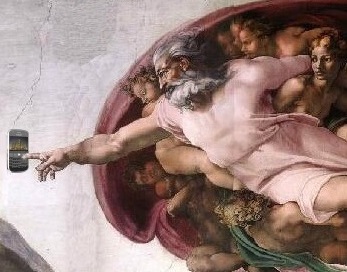 HEAVEN – The Christian God yesterday began "Twittering" – as He calls it – finally letting His Word be heard live by anyone with an internet connection or a mobile phone. The Bible may have just been rendered irrelevant.
And in His very first Tweet, the Lord sayeth, "If the Dalai Lama can go a-twittering, I can do it," adding, "Being the Almighty, I can go over 140 characters anytime I damn well please, I hope you k…" before his post was cut off.
Between each of His Glorious Tweets, the angels sing a beautiful chorus of "Angels we have heard on high," changing the lyrics to "His Tweeting we have seen on high," as cherubs write each sacred line out in clouds.
Religious scholars debated the ramifications of the Supreme Being's new line of communication to mankind, some postulating that it could have negative consequences for the economy, as it would put preachers and prophets out of work, and possibly even diminish people's need for churches.
"We will see preachers taking up the practice of tweeting, just to stay relevant," said Norman Holimeister, professor emeritus at Harvard Divinity School. "After all, if they claim a special connection with God, they can't very well let laymen get the edge on them."
According to Holimeister, part of God's motivation to get on twitter may even be competitive. To support this view, he noted that five minutes after the Dalai Lama tweeted, "Happiness is not something ready made. It comes from your own actions," God shot back, "I made humans inherently happy, if you can't keep it, that's just plain karma, ok, people? ROCL! Eat it, @DalaiLama!" (Twitter experts said "ROCL" was probably a variation on the popular acronym ROFL, this one translating as "Rolling On Clouds Laughing!")
God apparently has a sense of humor, and is an avid sports fan as well. In another post, the all-seeing deity, apparently watching the NCAA basketball tournament, tweeted, "Gawd, I sure gave these kids some hops, didn't I? It's downright nasty!"
As a result of His basketball posts, a barrage of recent tweeting has read more like prayers (now being called "Twayers"), such as this one from hoopsman342: "Oh, God, please bless me with another 3 inches of lift, and I'll be dunking hard with some freaky hang time!"
According to twitterholic.com, God shot up to a #1 worldwide Twitter ranking within just six hours of his first post. "He may be a Tweewbie [a newbie on Twitter], but this is not altogether surprising," said Jeremiah Yang, Senior Analyst on Social Computing for Forrester Research in Silicon Valley, California. "After all, He has always been a very popular figure. People just want to know what's on His mind. Now they can. Thank God God created Twitter!"
The following two tabs change content below.

The Humor Times founder/publisher/editor/writer may wear a lot of hats, but he likes it that way. Still, his favorite job is writing fake news articles. He is also a musician and songwriter, who plays guitar, mandolin and harmonica, with
several CDs
to his credit.

Latest posts by James Israel (see all)