Jeff Sessions is interviewed by Jerry Duncan

ANNOUNCER
Live from under a rock in your backyard, it's The Jerry Duncan Show.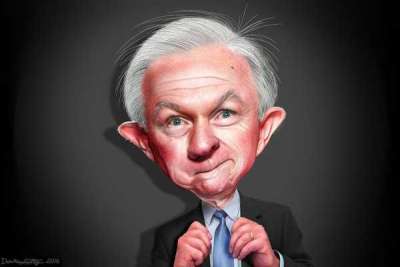 JERRY
Good morning listeners nationwide. Is it a good morning? We'll soon find out. Today on the show my guest is Attorney General Jeff Sessions. Welcome, General Sessions.
SESSIONS
Glad to be here.
JERRY
You may regret it when this interview is over.
SESSIONS
Hey, it can't be worse than working for my boss in the White House.
They both chuckle.
JERRY
Man, you resemble the Keebler Elf. The look, height, intelligence. You're the whole package.
SESSIONS
That's what they say. (pause) I did work for Santa Claus in the North Pole when I graduated from college. Was the head Elf in charge of transportation. I initiated a GPS system so his sleigh wouldn't collide with airplanes and other foreign objects on Christmas eve. Those reindeer are as dumb as rocks.
JERRY
I hate to burst your bubble, but the real Santa is African American. And he lives in the Bronx.
SESSIONS
Come on Mr. Duncan, quit pulling my chain. I worked for the man and he is as white as you and I.
JERRY
You worked for a fake Santa. I was at Macy's and he is as black as Jay-Z.
SESSIONS
Who? A to Z?
JERRY
Never mind. I don't have all day to explain.
SESSIONS
Santa is heavy set with a white beard, spectacles and shouts "Ho, ho, ho."
JERRY
No. Santa is heavy set with a white Afro, spectacles and shouts "Yo, yo, yo."
SESSIONS
This calls for an investigation.
JERRY
Speaking of Elf. Is it okay to call you by that name since you worked for Santa?
SESSIONS
Sure. Elf pride.
JERRY
Okay Elf. What's the latest on the investigation into Trump collusion with the Russians in the presidential election?
SESSIONS
I don't know. It's being investigated by the Special Counsel. What I do know is that I am innocent.
JERRY
Innocent? There is documentation of your meeting with a Russian official shortly after the president was elected. How do you explain that?
SESSIONS
Simple. We ran out of liquor and needed some vodka for our voter suppression meeting. Oops, I mean voter oppression meeting.
JERRY
Do you think the South will rise again? After all, you're named after the Confederate General Jefferson Davis.
SESSIONS
Are you implying that I'm a Rebel? Is that what this interview is all about Mr. Duncan?
JERRY
Hold on shorty. Don't get your panties in a wad, Attorney General Jeff Sessions. I hear you're going to a bachelor party tonight for a staffer.
SESSIONS
Yes sir.
JERRY
Will there be strippers?
SESSIONS
I understand there's a possibility. My mama wife told me that I need to recuse myself from any pleasure. Therefor, I will be wearing a blindfold.
JERRY
What are your upcoming plans for the Justice Department?
SESSIONS
We'll Mr. Duncan. I'm going to buy me one of those big swivel chairs, so I can twirl around when the Donald blows smoke up my ass.
JERRY
I understand you fellas in the White House have a daily ritual.
SESSIONS
We call the president "the Don". He's like our Mafia boss. Every morning we greet the president by kissing his ring. It makes him feel important and we get to keep our jobs.
JERRY
Although I understand the Trumpster is ready to give you the old heave ho.
SESSIONS
It's gossip by the fake media.
JERRY
I heard it on Fox News.
SESSIONS
My mistake. It's true.
JERRY
Is there anything we don't know about you that you'd like to tell my listeners?
SESSIONS
I'm a big fan of Pat Boone. Have all his CD's. Oh, I watch the reruns of Lassie on TV Land. Mama wife and I cry like babies at the end of each episode. Do you have a Kleenex? (sobbing) I can't stop thinking about last week when Timmy fell in the well and Lassie saved him.
JERRY
I think that about does it for today. My head is spinning. Good bye everyone. See you tomorrow.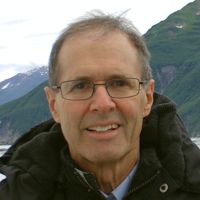 Latest posts by Dean Kaner
(see all)