Wherein our intrepid talk radio host interviews White House Chief of Staff John Kelly.
ANNOUNCER
Live from under a rock in your backyard, it's The Jerry Duncan Show.
JERRY
Good morning listeners nationwide. Is it a good morning? We'll soon find out. Today on the show my guest is White House Chief of Staff John Kelly. Hello, Chief.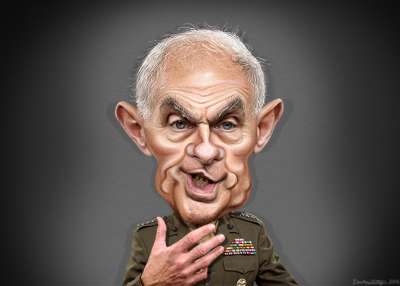 JOHN KELLY
Me no Chief. Me a General.
JERRY
Okay funny boy. I'm here to make you go ballistic like your boss.
KELLY
I'm calm as a cucumber.
JERRY
Yeah? Your nose looks like one. Hey, you're a retired Marine general and former commander of U.S. Southern Command in Central and South America and Caribbean. Even led a fighting force in Iraq.
KELLY
Yep. One of our boys accidentally shot off my toupee in Mosul. Mistook it for a ground squirrel. Those were rough times. Did you serve?
JERRY
Five months in the county jail for stealing my neighbor's parrot. I didn't know the damn bird would rat me out. Not with the name Helen Keller.
KELLY
You're weird.
JERRY
I'll pretend I didn't hear that. The president appointed you Secretary of Homeland Security after he was inaugurated. What did you do?
KELLY
Oh, just hung around the border. Had people arrested. It was fun.
JERRY
That job only lasted six months.
KELLY
One day in this White House is a lifetime. Trust me.
JERRY
Now you're Chief of Staff. Describe your duties for those of us who don't care.
KELLY
I negotiate with Congress, implement the president's agenda and advise the president what he doesn't want to hear.
JERRY
Are we talking about the same person? The Trumpster doesn't listen to anybody. Don't fire Comey. He did it. Don't fire Priebus. He did it. Don't fire Sessions.
KELLY
He didn't fire Sessions.
JERRY
Give him a day for his head to explode. Please tell me something I don't know about Trump.
KELLY
The president wrote beautiful poetry when he was in college.
JERRY
C'mon. The guy can't put two words together.
KELLY
Would you like to hear a few?
JERRY
Make me a believer.
KELLY
Here's his first poem written in 1965.
Roses are red,
Violets are blue,
One ripped condom that caused you.
JERRY
Wow. That's really deep.
KELLY
This was written in 1966.
Here I sit broken-hearted,
Paid a dime and only farted.
JERRY
Brilliant. There's real anger in that gem. Hey, what's the strangest thing that happened in the White House?
KELLY
There are so many. But one that comes to mind was on April Fools Day. We were holding a cabinet meeting and Barron Trump was under the table wearing a Kevin Spacey mask. Well, he managed to pull my Johnson and a second later Jeff Session's little Johnson.
JERRY
And what did Trump do?
KELLY
He tweeted a photo of everyone laughing at us with the caption Johnson & Johnson.
JERRY
What's the coming attractions in the West Wing?
KELLY
A nuclear war with North Korea, Wall Street crashing, impeachment hearings. My plate is full.
JERRY
Trump asked, "If we have nuclear weapons, why can't we use them?" Is he nuts?
KELLY
I think you answered your own question, buddy.
JERRY
I'm glad you said that because I am about to prove the obvious. Ladies and gentlemen, from the inner sanctum of the White House, welcome Vice President Mike Pence.
PENCE
Hello Jerry.
JERRY
So you decided to come back for more punishment.
PENCE
There have been many martyrs in the Bible. I believe the Lord will help me through this interview.
KELLY
And I thought Jerry Duncan was weird.
JERRY
Special Counsel Mueller is focusing his Russian investigation on you, Mikey. You might be covering up for Trump because you said that you didn't know Mike Flynn lied to the FBI.
PENCE
No, no, no. I thought the FBI was something women use to protect themselves from getting pregnant. Which you know I'm against.
JERRY
That's an IUD knucklehead. And I don't buy it.
PENCE
Okay, I knew. Forgive me Lord for I have sinned. Don't turn me into a pillar of salt. I have so many good ideas for outlawing sex in America.
JERRY
You're finally starting to confess. Have you had any wild women in your office?
PENCE
Oh no. It's a sin to look at another woman other than my wife.
JERRY
Jesus. Let's get to the claim that Trump is nuts. I'm referring specifically to his thoughts about using nuclear weapons.
PENCE
Did you say Jesus thinks the president is nuts? If he's on board, so am I.
JERRY
No, mayonnaise face. General Kelly over there said the president is nuts.
PENCE
It's the fake media. Roy Moore is a decent man, Charlottesville never happened, Paul Manafort is as honest as Abe Lincoln, Donald Trump doesn't know Billy Bush, Chris Christie isn't fat.
JERRY
You're going crazy. I gotta call 911.
PENCE
Donald Trump had the largest inauguration crowd in the history of the United States, Obama was born in Kenya…
(A door slams. Loud footsteps are heard.)
JERRY
There he is fellas. Strap him down. Wow, the Penster is headed for an insane asylum worse than the one he's worked in for over a year. See you tomorrow everyone.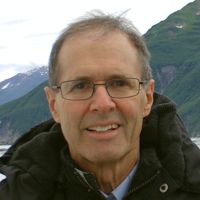 Latest posts by Dean Kaner
(see all)