Wherein our intrepid talk radio show host interviews White House advisor Stephen Miller
ANNOUNCER
Live from under a rock in your backyard, it's The Jerry Duncan Show.
JERRY
Good morning listeners nationwide. Is it a good morning? We'll soon find out. Today on the show my guest is Stephen Miller, White House senior advisor to the president.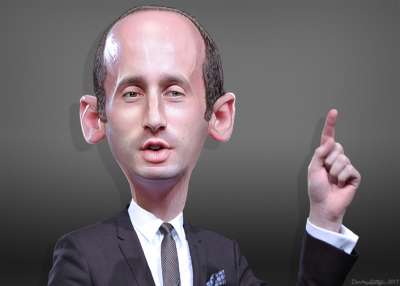 STEPHEN MILLER
Hello.
JERRY
Wow, in person the most hated man in America. Are you a distant cousin of Nazi Propaganda Minister Joseph Goebbels?
MILLER
Is this some kind of joke?
JERRY
No. Even Harvey Weinstein thinks you're creepy. My question is who is running the Bates Motel if you are here talking to me?
MILLER
In response to those tasteless remarks, I quote the great Vice President Dan Quayle "What a waste it is to lose one's mind."
JERRY
You grew up in a liberal Democratic household. When did you change sides?
MILLER
In high school. I started riling up my classmates by telling them all the Hispanic students should be deported if they didn't start speaking English. Then I started getting offers to go on conservative talk radio shows. I told listeners that Osama bin Laden would feel welcome at Santa Monica High School.
JERRY
How did your classmates react?
MILLER
Well, there were flyers of my photo posted on all the lockers with the words "this should scare you from getting pregnant."
JERRY
When did you realize that you were never going to have friends?
MILLER
It was in preschool when no one would let me play with their toys in the sandbox. But I got even. There were clumps of cat turds underneath the sand, so I scooped them up with my hands and passed them out to every kid. The little monsters thought it was candy and ate it. I laughed my ass off as they gagged and cried.
JERRY
What happened as you got older?
MILLER
I was meaner. In high school, I dropped a childhood friend because he was Mexican American. I was against a student LGBT group and started a campaign to get rid of condoms.
JERRY
What the hell were you thinking?
MILLER
That I could be the next Archie Bunker. I have a spiritual connection to the man.
JERRY
You realize that he's a fictitious character.
MILLER
No he's not. Fake news.
JERRY
Okay Meathead. Let's talk about your college days.
MILLER
I went to Duke University. I wanted to get away from California. One of the first things I did was write in the school newspaper that poet Maya Angelou had racial paranoia. Listen Duncan, I've read more enlightening things about African Americans on a men's room stall than her gibberish.
JERRY
You have Trump's ear. You were the reason the Trumpster changed his mind about DACA before the government shutdown.
MILLER
We think alike. That should be comforting to all Americans.
An intern interrupts the interview.
INTERN
Sorry to bother you Mr. Duncan, but Bernie Sanders is in the hallway. He's very agitated. Apparently Mr. Miller is getting on his nerves.
JERRY
Send him in, scrambled brains. I like a good fight.
The sound of a door is heard opening and closing.
BERNIE
Thank you for allowing me to be on your show.
JERRY
Why are you here absent minded professor?
BERNIE
I was listening to your show and disgusted by the hate coming out of the mouth of this putz Stephen Miller. The way he treats immigrants, especially Hispanics is inhumane.
MILLER
Can't take the heat old man then get out of politics.
BERNIE
Look, my father was an immigrant from Poland. He didn't have a nickel when he arrived on Ellis Island in 1921.
MILLER
Then you can appreciate this joke. How do you sink a Polish battleship?
BERNIE
With a torpedo?
MILLER
Wrong. Put it is water.
BERNIE
Who wrote that crazy Sean Hannity?
MILLER
Here's another one. How do you get a one-armed Pole out of a tree?
BERNIE
Saw the branch?
MILLER
Wave to him.
BERNIE
Where do you hear this crap?
MILLER
I make it up. I have jokes for every ethnicity. I'm an equal opportunity offender.
BERNIE
You're a spoiled brat who has a rich daddy. That's what you are. My old man sold paint for a living. Can you imagine? When he shook paint cans, his head looked like it had Parkinson's disease.
MILLER
Are  you punishing me because I'm spoiled rotten?
BERNIE
No. I'm punishing you because you are rotten.
MILLER
Poor, poor Bernie.
BERNIE
Yes we were poor. So poor that if I wasn't a boy, I wouldn't have had anything to play with.
Immigrants should have a path to citizenship. And no discrimination as to who gets citizenship.
JERRY
I've been listening to you two Nobel Prize winners and have a solution. Get off my show.
MILLER
But I want to talk about my new slogan Make America Meaner for the 2020 Trump campaign.
BERNIE
Then I get to talk about my 2020 campaign slogan. BS you can trust.
JERRY
See you tomorrow everyone.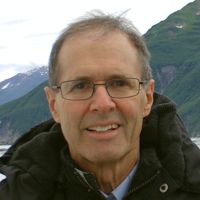 Latest posts by Dean Kaner
(see all)