Wherein our intrepid talk radio host interviews actress and political activist Jane Fonda.
ANNOUNCER
Live from under a rock in your backyard, it's The Jerry Duncan Show.
JERRY
Good morning listeners nationwide. Is it a good morning? We'll soon find out. My guest today is actress and political activist Jane Fonda.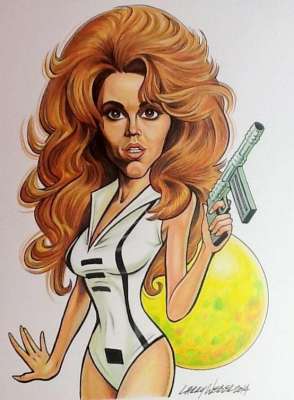 JANE FONDA
Hi there.
JERRY
Welcome Ms. Fonda.
FONDA
Call me Jane.
JERRY
Me Tarzan. You Jane.
FONDA
But you look more like Cheetah.
JERRY
I'll pretend I didn't hear that "Hanoi Jane."
FONDA
What the hell did you just call me?
JERRY
"Enjoy Jane." You know, you're a fun person to be around whether you're here or in Hanoi. Oops.
FONDA
Okay. Let's get it out in the open. Yes, I was in Hanoi in 1972 on an anti-Vietnam War crusade. I spoke out against the war on Radio Hanoi and had a picture taken on an anti aircraft gun.
JERRY
And you said US military POWs weren't tortured.
FONDA
I was wrong and apologized. The POWs were forced to watch my movie Barefoot In The Park. That was torture.
JERRY
You also protested the Iraq War in 2003.
FONDA
I did. There's never been a war I didn't protest. I need the publicity. I have protests coming up for every war in the world. Licking my chops for the nuclear war Trump will be starting with North Korea.
JERRY
You've been married and divorced three times. One of your husbands was Tom Hayden. He was a member of the Chicago Eight and Federally charged for conspiracy and inciting to riot during anti Vietnam war protests in 1968.
FONDA
It was just boys being boys. Tom matured and was elected to the California State Assembly and Senate. I'm sure that you've made bad decisions in life. I know your mother did.
JERRY
Grrr. Do you remember what you looked like before your first plastic surgery?
FONDA
Not funny, Duncan.
JERRY
Moving on. You married and divorced movie director Roger Vadim.
FONDA
Loser.
JERRY
Married Ted Turner.
FONDA
Winner. Owned CNN. Big bucks.
JERRY
That marriage didn't last.
FONDA
It was because Ted was bi-polar. It sucked the life out of me and I hated his baseball team the Atlanta Braves. There was so much pent up anger inside that I wanted to chop off his nuts with the Braves tomahawk. But then I found God.
JERRY
And what did He say?
FONDA
It's a She. I was inspired by the divine words " I got a young stud waiting for you." That's all I needed to hear, baby. I was out the house before the dust settled.
JERRY
You won two Academy Awards for best actress in the films Klute in 1971 and Coming Home in 1978. You also had the top selling video in 1982 with Jane Fonda's Workout.
A door is heard opening and closing.
INTERN
Mr. Duncan.
JERRY
What four eyes? Don't tell me that numbskull Bernie Sanders is in the studio.
INTERN
No, no sir. It's Megan Kelly. She's very determined.
JERRY
Okay. Bring her in.
The sound of high heels clicking.
KELLY
I appreciate your time, Jerry. That bitch over there publicly humiliated me in the national press and said I was a loser.
FONDA
(screaming) Your ratings on the Today Show are lower than Charles Manson's IQ!
KELLY
During our interview, all I did is question why your face could look so good for an 80 -year-old without having plastic surgery.
FONDA
It's none of your damn business Ms. Nobody.
KELLY
I'm a reporter. I seek the truth.
FONDA
You're a bimbo. And you don't tell the truth. You said to your listeners when you were on Fox that Jesus and Santa Claus were white. Are those facts or fake news?
KELLY
You're jealous because I'm a runner with a killer body.
FONDA
If you ran like your mouth, you'd be in good shape.
KELLY
I'm not saying I hate you, but I'd unplug your life support to charge my phone.
JERRY
Hold on Kelly. When you remove those layers of makeup, I wouldn't be surprised to find out you're really Ann Coulter.
FONDA
Ha, ha, ha. That's funny.
JERRY
And you Fonda are probably Richard Simmons. Who else could exercise like that?
KELLY
Ha, ha, ha. So much for Jane Fonda's Workout.
FONDA
Come over here and say that to my face. I'll punch…
JERRY
This is getting nasty between these two idiots. Calling security. See you tomorrow everyone.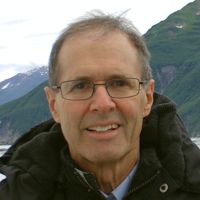 Latest posts by Dean Kaner
(see all)