Wherein our intrepid talk radio show host interviews comedians Laurel and Hardy, and Don Rickles.
ANNOUNCER
Live from under a rock in your backyard, it's The Jerry Duncan Show.
JERRY
Good morning listeners nationwide. Is it a good morning? We'll soon find out. Through the magic of a hologram, live from heaven, my guests are comedians Stan Laurel and Oliver Hardy of Laurel and Hardy fame, and Don Rickles.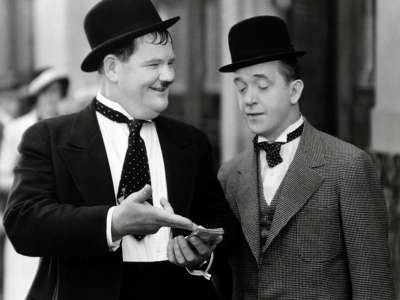 LAUREL
Hello.
HARDY
Hi.
RICKLES
Look at Stan Laurel. He's so skinny, I can grate cheese on his ribs.
Hardy laughs.
RICKLES
What's so funny?
HARDY
I'm sorry, Mr. Rickles. I didn't mean to laugh. It was a faux pas.
RICKLES
Is it alright if I sell your underwear to the circus? I hear they need a new tent.
JERRY
Hey, Stan and Ollie. What's the difference between a monkey, a prince and Don Rickles?
LAUREL
Beats me.
JERRY
A monkey has a hairy parent, a prince is an heir apparent, and Don Rickles has no hair apparent.
RICKLES
You're getting on my nerves, Duncan. I know Frank Sinatra.
JERRY
You're the boys' supervisor. Is that correct?
RICKLES
Yes. We're building a wall to keep out Trump (pointing to the wall). As you can see, it's 20 feet high.
RICKLES
Say fellas. Did you use 53-grade cement between the bricks?
LAUREL
What cement?
A rumbling sound is heard.
HARDY
Watch out, Mr. Rickles!
The bricks start falling on Rickles head.
LAUREL
He's out cold.
HARDY
Here's another nice mess you've gotten me into. Now what are we going to do?
LAUREL
Let's put a sledge hammer in his hand and everybody will think he went nuts.
HARDY
I'm beginning to think you're right.
LAUREL
You bet your life I'm right. You know, I'm not a s dumb as you look.
JERRY
Wait a second, boys. You need to get Mr. Warmth out of unconsciousness. Pour cold water over him.
HARDY
Duncan, at last you're using my brains.
HARDY
Hurry, Stanley. Let's get a bucket of water.
RICKLES
(regaining consciousness) Melania, Melania Trump. I love hearing your Dracula voice. Please bite my neck.
DUNCAN
Are you okay, Rickles?
RICKLES
(sarcastic) No. I'm going dancing with Ginger Rogers.
RICKLES
Say. Where are those two numbskulls? Millions of workers in heaven and they send me a few clowns short of a circus.
Laurel and Hardy arrive with a bucket of water. Laurel tosses the water on Rickles face as he is getting up.
RICKLES
What do you think this is? The ice bucket challenge?
HARDY
My friend here thought you were unconscious.
RICKLES
I want to tell you from the bottom of my heart. Stan Laurel told me he never liked you.
RICKLES
Look at the mess you two created. The Lord wants me in his office first thing tomorrow morning.
LAUREL
Do you think you could ask if Ollie and I can have a raise?
RICKLES
I'm about to lose my angel wings and you come up with a question so nuts, it makes Donald Trump sound intelligent.
JERRY
Suck it up. So you get demoted.
RICKLES
Duncan. When you get to your wit's end, you'll find the Lord lives there. You hockey puck!
JERRY
(laughs) That's it for today.
RICKLES
Oh sure. Laugh it up. You make $200,000 a year and your poor parents are back in Alaska eating beetles for dinner.
LAUREL
There's an old saying. You can lead a horse to water, but a pencil must be lead.
JERRY
See you tomorrow everyone.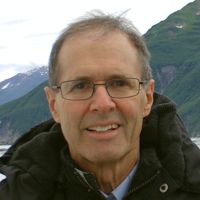 Latest posts by Dean Kaner
(see all)