Wherein our intrepid talk radio show host interviews Sarah Palin and Roseanne Barr, our 'Road Scholars.'
ANNOUNCER
Live from under a rock in your backyard, it's The Jerry Duncan Show.
JERRY
Good morning listeners nationwide. Is it a good morning? We'll soon find out. Today on the show my guests are the former Governor of Alaska Sarah Palin and comedian Roseanne Barr.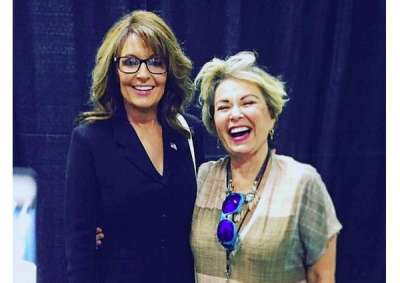 SARAH
Good to be here again. You betcha.
ROSEANNE BARR
I don't know how I found the time. I'm so busy yellin' at everyone, I can't think straight. Acid ain't even workin' to keep me calm.
JERRY
Well. Don't worry, because you won't have to think much. I call this segment "Stupid Talk." During the past month, we had the Kavanaugh hearings for Supreme Court Justice and bomb threats to Democratic officials.
SARAH
Golly, geez. I remember when my whole family got bombed on Christmas eve. I couldn't even find the toilet to barf.
ROSEANNE
I tried sniffin' Coke once, but the ice cubes got stuck in my nose.
ROSEANNE
Hey Palin, ain't your son Track the one that beats up people?
SARAH
Yeah. He's got PTA from being in combat.
JERRY
(mumbles to himself) It's PTSD, you idiot.
ROSEANNE
That's what I thought. I once had a fundraisin' idea at a PTA meeting. I suggested a cash bar at Parent-Teacher
Conference night.
JERRY
I'm sure that went over big.
ROSEANNE
Nah. The principal called child protection services and my kids were removed from the house.
JERRY
The midterm elections are around the corner. Are you two women following the candidates?
ROSEANNE
I'm votin' for Trump.
SARAH
I used to have an open mind, but my brains kept falling out. I'm votin' for Trump.
ROSEANNE
You can't vote for him. You'll cancel out my vote.
JERRY
Trump isn't even running.
SARAH
Okay. I'm votin' for Reagan.
JERRY
He's dead.
SARAH
Then Lincoln. As long as he's a Republican. I'll confess, I used to be indecisive. Now I'm not sure.
JERRY
Looks like the Democrats are poised to take the House. There are 435 seats up for grabs.
ROSEANNE
Grabbin' that many seats is Harvey Weinstein's fantasy.
SARAH
Who's Harvey Weinstein?
JERRY
He's an alleged sex criminal.
ROSEANNE
Yeah. Harvey once said to me at a party. "Nice dress. Can I talk you out of it?"
JERRY
You're both out of work. Do you have any future plans?
SARAH
I'm takin' a cruise in a caravan from Honduras. People who can't speak English love me.
ROSEANNE
Stupid. Cruises are on water.
SARAH
Are the toilets salt water or fresh water? I need to know which fishin' pole to bring.
JERRY
Sorry. Must interrupt the show for this important bulletin. Notorious mobster Whitey Bulger was killed in prison today.
ROSEANNE
You're kiddin'? I remember when Whitey pitched for the Yankees.
SARAH
No. He was Beaver's friend in Leave It To Beaver.
JERRY
Are you always stupid or is today a special occasion?
SARAH
Are you talkin' to me?
JERRY
(sarcastic) No. I'm talking to myself.
ROSEANNE
That's what I thought.
JERRY
I'm talking to both of you!
JERRY
Roseanne. What are your plans?
ROSEANNE
I'll be headlinin' the rubber room for the next year at Bellevue Mental Hospital in New York City.
SARAH
Sounds cool. Maybe I'll join you.
JERRY
Trust me. I know you will. See you tomorrow everyone.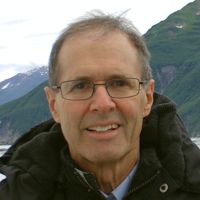 Latest posts by Dean Kaner
(see all)