Wherein our intrepid talk radio show host interviews Vice President Pence and former Vice President Biden.
ANNOUNCER
Live from under a rock in your backyard, it's The Jerry Duncan Show.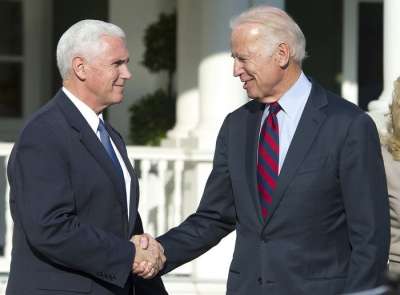 JERRY
Good morning listeners nationwide. Is it a good morning? We'll soon find out. Today my guests are Vice President Mike Pence and former Vice President Joe Biden.
MIKE PENCE
Good morning. From the Book of Amos. "God will roar from Zion and utter His voice from Jerusalem."
JOE BIDEN
Wait a second, Pillsbury Doughboy. Are you talking about Famous Amos, the cookie guy?
JERRY
Pence, you're nuts! I'm sending Stormy Daniels over to your office. She told me you two can pretend you're Adam and Eve.
BIDEN
"Then the eyes of both were opened and they knew that they were naked." Genesis 3:7
PENCE
(nervous) Oh my. What will I tell my wife?
JERRY
Tell her a dirty book is rarely dusty.
BIDEN
You're sure a wise man, Duncan.
JERRY
Big Joe. Is it true you may be running for president in 2020? Most people 76 years old are playing shuffleboard at Leisure World.
BIDEN
Not this guy. I am fighting for the middle class. I want to save the environment, have affordable health care for every American and protect social security and medicare from Republicans out to destroy it.
PENCE
No, no , no. Let's get to the most important issue. Joe Biden wants to fist fight our president and it will be on pay per view. Orange Crush versus The Gaff Man. My money is on Orange Crush.
BIDEN
You picked the wrong horse, Penster. I'm a winner! It's funny though. When I discussed the fight with my doctor and told him about my memory loss, he made me pay in advance.
JERRY
Pence. Do you have a role model?
PENCE
Former Vice President Dick Cheney.
JERRY
Unbelievable. The idiot who started the Iraq War under the false premise that Saddam possessed nuclear weapons. The crook who Halliburton paid out $34 million, so he could give the company oil contracts when he became vice president. What do you have to say for yourself?
PENCE
(caught off guard) Aba, aba, aba.
JERRY
Just a small token of Halliburton's appreciation for no-bid contracts in Iraq.
PENCE
Aba, aba, aba.
An intern rushes into the studio.
INTERN
Mr. Duncan, Mr. Duncan. Bernie Sanders is in the hallway.
JERRY
What does he want, Scrambled Brains?
INTERN
Something about making sure mental health care for Pence is covered under Obamacare.
JERRY
What? Bring him in.
SANDERS
I appreciate this opportunity, Jerry.
JERRY
Speaking of healthcare. Did you hear about the guy who died of a Viagra overdose?
SANDERS
No. What happened?
JERRY
They couldn't close his casket.
BIDEN
Hey, Bernie. What do you call a cheap circumcision?
SANDERS
I know my old man used a pliers on me. No clue.
BIDEN
A rip off.
PENCE
I have a joke that I learned in Bible study.
JERRY
Lay it on us, Samson.
PENCE
Why didn't Noah go fishing?
SANDERS
(interrupts) Because he had only two worms.
PENCE
How did you know the answer?
SANDERS
I was a friend of Noah.
JERRY
Okay, Bernster. You're here to make sure the Veep gets mental health care treatment.
PENCE
I could have a breakdown if the Stormy Daniels meeting goes through. I have lust in my heart. What am I saying? I don't even know anymore. Lord help me for I have bad thoughts.
SANDERS
Take it easy, Mike. Here's your birth certificate.
PENCE
This document is confusing?
SANDERS
That's because you were born on Mars.
PENCE
Can I still get Obamacare?
BIDEN
No. And you can't be Vice President anymore. You're not a naturalized citizen born in the United States. Think about joining a caravan.
JERRY
Bye, Mikey. See you tomorrow everyone.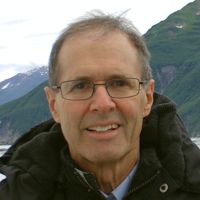 Latest posts by Dean Kaner
(see all)