Wherein our intrepid talk radio host interviews the late Senator John McCain through the magic of a heavenly hologram.
ANNOUNCER
Live from under a rock in your backyard, it's The Jerry Duncan Show.
JERRY
Good morning listeners nationwide. Is it a good morning? We'll soon find out. Through the magic of a hologram, live from heaven my guest is Arizona Senator John McCain.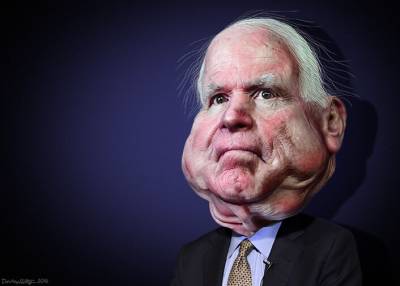 SENATOR JOHN MCCAIN
Don't talk to me until I have my caffeine fix. Yesterday, I crashed into a cloud with my first set of angel wings. Damn, should have taken flying lessons.
JERRY
Tell me when to start the interview, Senator.
MCCAIN
You can continue, Tumbleweed.
JERRY
I'll pretend I didn't hear that.
JERRY
You graduated from the U.S. Naval Academy in 1958. You're a trained pilot.
MCCAIN
Aside from the fact I crashed a few planes. Yes.
JERRY
Speaking of planes. What do you call a pregnant flight attendant?
MCCAIN
I don't know.
JERRY
Pilot error.
MCCAIN
That's a joke?
JERRY
(sarcastic) No. It's in the flying manual.
MCCAIN
Must have missed it. Too busy dress shopping for my girlfriend Senator Lindsey Graham.
JERRY
You broke records in politics. A U.S. Congressman for 5 years, a U.S. Senator for 31 years, and the dumbest running mate in presidential history Sarah Palin.
MCCAIN
Sarah was disappointed in the 2008 presidential election, because there wasn't a swimsuit and talent competition. But she got over it when President Obama thanked her for becoming president.
MCCAIN
Hey, Duncan. What did Osama bin Laden's ghost say to Mitt Romney?
JERRY
Are you Beaver Cleaver's dad?
MCCAIN
Don't be sad. Obama's foreign policy killed me, too.
JERRY
(laughs) Ba ha, ba ha ha.
MCCAIN
I'm doing stand up at Heaven's Gate Comedy Club. My Trump jokes are the rage. On a serious note, if man baby Trump is going to have any chance of winning in 2020, Putin is going to have to work overtime.
JERRY
Hold that thought. Here to defend himself is the Trumpster himself.
Trump sits uncomfortably on the chair. A loud boom is heard.
TRUMP
I didn't fart, Duncan. My intestines just blew you a kiss.
JERRY
I would make a fart remark, but I'm afraid it would stink.
MCCAIN
Enough with the kibitzing, I want to talk to the jerk.
TRUMP
Be nice, McCain. After you died, I paid for your funeral. Never got a thank you.
MCCAIN
You draft dodging, narcisstic egomaniac. You're jealous because I was a war hero.
TRUMP
I like people who weren't captured.
MCCAIN
But I was tortured in the Hanoi Hilton for 6 years.
TRUMP
You should have stayed at a Marriott. Lots of perks, lots of perks.
JERRY
Senator McCain. I understand you've seen the unredacted Mueller Report. How does it look for the Trumpster?
MCCAIN
Being a ghost, I'm transparent. There was no collusion with the Russians, but obstruction from the president himself. And the entire Trump family.
TRUMP
Fake news. No collusion, no obstruction.
MCCAIN
I have your Deutsche bank records and tax returns. You don't have a pot to piss in, fella.
JERRY
What are you going to do about it, Senator?
MCCAIN
I'm glad you asked, Duncan. I know a thing or two about torture. I'm going to haunt the Trumpster for the rest of his life. He will find me in his closet when he opens it up. A big BOO will greet him. The toilet will flush all night so he can't sleep. He'll find spiders in his shoes and a black cat will run across his bed at night. I'm so excited! This is the best thing that's happpened since I voted to keep Obamacare.
JERRY
What do you think, Trumpster? Trumpster?
The door slams.
JERRY
He's gone. What happened?
MCCAIN
Trump is scared of his shadow that I just cast. It's chasing him. Happy Trumpoween!
JERRY
See you tomorrow everyone.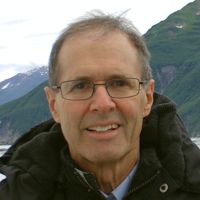 Latest posts by Dean Kaner
(see all)