When in doubt, start a war!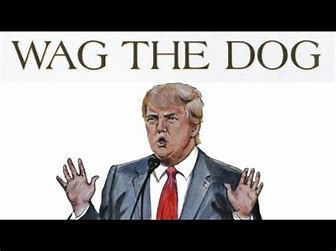 I hate to brag, but my two dogs have a sixth sense about the inner impulses of our president, even before we do, and they've been talking…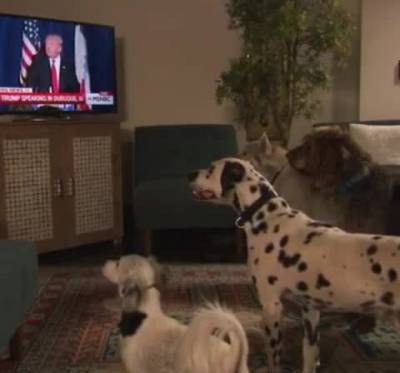 NoCollusion
It's wag the dog time, isn't it?
DirtonHillaryIloveit
Yep, Iran's in the barrel this time, wouldn't you say?
NoCo
Right. Canada wouldn't have had the same impact!
Dirton
Well, wouldn't you start a war: Son's up a creek – possibly squeal for a book contract!
NoCo
Heard he already has 'the runs'.
Dirton
Senior?
NoCo
No, Jared!
Dirton
And, well he should – he's our point man in Iran!
NoCo
Heard our owner wants to interview all the countries leaders who are still standing after Trump's term.
Dirton
Slim pickin's, huh?
NoCo
Dirton
G-d bless you – you comin' down with something?
NoCo
No, but just in case; I socked away some treats in our End-of-the-World kit with the Spam.
Dirton
Not so quick. Our owner already has an escape plan & I'm going with her!
NoCo
What about me?
Dirton
Collateral Collusion!
NoCo
But, I won't have anyone to talk Politics!
Dirton
No worries! When President Harris pushes her VP's hands away – you'll always find someone to share your Kibble with!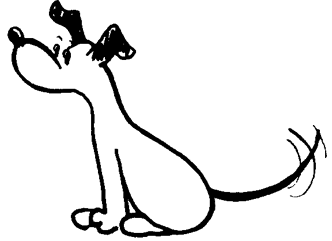 The following two tabs change content below.

Marilyn Sands
Marilyn Sands is a former 80's Stand-Up Comic & Comic Booker. Sold Jokes to Joan Rivers & lesser lights. A Contributor to "Humor Times Magazine" while pitching her 2 Madcap Screenplays & a Stage Play about the 1st Off-Line Dating Site, 'Eden' where Adam & Eve get busy! Proud to announce her new book, "CAN YOU PEE OUTDOORS" On-Line Dating Straight Lines can be purchased now in Paperback & ebook on amazon.com/dp/1733487409 It's for anyone who's ever been Single! And, she says, "If this piece of literature happens to turn up in your John as Toilet Humor - so be it. Who am I kidding - with a Title like I have - I wouldn't be surprised"!

Latest posts by Marilyn Sands (see all)