Wherein our intrepid talk show host interviews three of the Democratic debaters running for the presidential nomination.
ANNOUNCER
Live from under a rock in your backyard, it's The Jerry Duncan Show.
JERRY
Good morning listeners nationwide. Is it a good morning? We'll soon find out. My guests today are three Democratic debaters, presidential candidates running in 2020: Former Vice President Joe Biden, Senator Bernie Sanders and Senator Elizabeth Warren.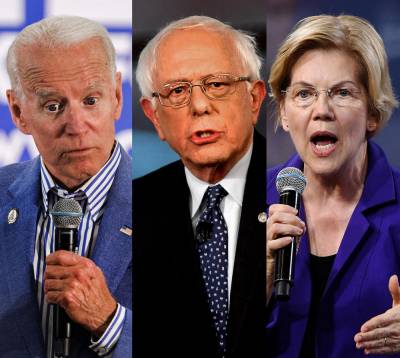 BIDEN
Can I kiss your head?
SANDERS
Can I bring you some chicken soup?
WARREN
Can we smoke a peace pipe?
JERRY
No. Larry, Moe and Curly.
JERRY
Senator Sanders. You said that convicts would be able to vote from prison. Some of these dudes have committed murder. Should we allow it?
SANDERS
Why not? Go to www.felonsforBernie.com These are my peeps.
JERRY
Hey, Bernster. Why did the credit card go to jail?
SANDERS
I don't know.
JERRY
It was guilty as charged.
SANDERS
(pulling his hair out)
Oy vey.
WARREN
My Cherokee cousin told me, "Prisoner who paints in jail will have brush with the law."
SANDERS
What is this? Last Comic Standing?
BIDEN
Bernie may understand felons, but he doesn't get the middle class. Like the folks in Ohio and Pennsylvania who are proud to work, but struggling to get by paycheck to paycheck. I'm going to raise the minimum wage and create high paying jobs.
WARREN
You tell em, Joe. Close the loopholes that benefit shareholders over laborers.
SANDERS
That isn't realistic, Warren. You're losing your mind. I heard when two robbers stole your TV last month that you chased after them saying, "you forgot the remote."
WARREN
I feel bad. I didn't put in batteries.
JERRY
What makes any of you think you can beat Donald Trump?
WARREN
Because I believe in Medicare for all. It will ease healthcare costs and reduce drug prices. Americans won't go broke.
BIDEN
Climate change. If we don't save our planet, Trump will be a pile of orange slush in the Oval Office. Come to think of it, that's a good thing.
SANDERS
Joe. You're wrong. We have polar bears searching for ice.
WARREN
That's terrible. Can you imagine a Polar Bear on thin ice?
JERRY
It's what you call an ice breaker.
WARREN
I can beat the president on a big issue, free college tuition. For students wanting a higher education, it's the difference between Donald Trump and the rear end of a horse.
JERRY
There is no difference, Senator.
WARREN
Good point, Duncan.
BIDEN
Hey, Warren. Do you know why redneck murder cases are so hard to solve?
WARREN
You making fun of us Okies?
BIDEN
No. Just sayin all the DNA matches and there are no dental records.
SANDERS
I think this calls for a molar investigation.
JERRY
As Trump would say, Fake Chews. See you tomorrow everyone.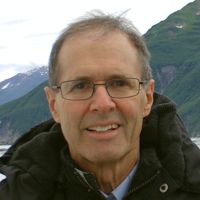 Latest posts by Dean Kaner
(see all)