Wherein our intrepid talk radio show host interviews National Security Advisor John Bolton.
ANNOUNCER
Live from under a rock in your backyard, it's The Jerry Duncan Show.
JERRY
Good morning listeners nationwide. Is it a good morning? We'll soon find out. Today on the show my guest is National Security Advisor John Bolton.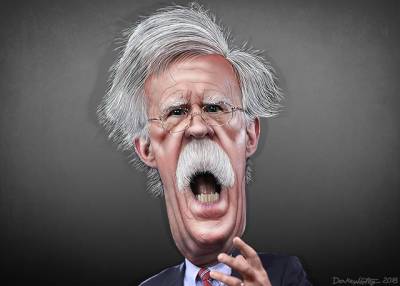 JERRY
Good morning, Mr. Bolton.
JOHN BOLTON
Good morning.
JERRY
I always wanted to know. Is that a mustache or have your eyebrows come down for a drink?
BOLTON
It's a mustache. But be careful, if I sneeze it changes lips.
JERRY
You're 72 years old and have a resume a mile long. You were the US Ambassador to the UN for 1 year. Even though you hate the UN.
BOLTON
The UN is not a friend of the United States. Most of the members are a bunch of dead beats and losers. Duncan, we pay 22% of the budget.
JERRY
Isn't it worth the price of peace?
BOLTON
You don't understand. We need the money to bomb Iran, Syria, Libya, Venezuela, Cuba, Yemen, North Korea…
JERRY
Russia?
BOLTON
Russia, China. I have a very ambitious plan. These countries are bad actors on the world stage. Take for instance the Supreme Leader of Iran Ali Khamenei. The last time he smiled was when his own family passed away.
JERRY
But if we bomb Iran, they could do enormous damage to the global economy by mining the Strait of Hormuz and cutoff 40 percent of the crude oil trade internationally. How about Iraq?
BOLTON
I was just in Iraq.
JERRY
How did you get out?
BOLTON
Iran.
JERRY
You're a graduate of Harvard law school. What's the difference if you go to another law school?
BOLTON
A lawyer from another school can let a case drag out for several years. A Harvard lawyer can make it last even longer.
JERRY
Supreme Court Justice Clarence Thomas was in your law school class. Do you know why Washington, D.C. has the most lawyers and New Jersey the most toxic waste?
BOLTON
No clue.
JERRY
New Jersey had first pick.
BOLTON
Makes sense.
JERRY
Here's a few troubling things from your past. You avoided service in Vietnam because you had "no desire to die in a Southeast Asia rice paddy."
BOLTON
A completely bogus story. I served my country honorably in the National Guard. My battalion fought mosquitoes in the swamps down in Louisiana. Got a purple heart.
JERRY
For bravery?
BOLTON
No. The little son of a bitch bit me in an artery. The ole ticker stopped.
JERRY
In 2002, you sabotaged Secretary of State Colin Powell while he was negotiating a plan for North Korea to abandon their nuclear weapons program.
BOLTON
True. I've dedicated my entire life to sabotaging peace. I'm hoping Trump will award me the Presidential Medal of Freedom.
JERRY
No. That's going to Paul Manafort.
BOLTON
Bummer. Speaking of Manafort.
BOLTON
Knock, knock.
JERRY
Who's there?
BOLTON
Kermit.
JERRY
Kermit who?
BOLTON
Kermit a crime and you get locked up.
JERRY
I never knew you had a sense of humor.
BOLTON
If you see me smiling, it's because I'm thinking of doing something bad. If you see me laughing, it's because I already did.
JERRY
See you tomorrow everyone.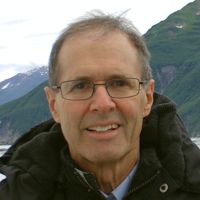 Latest posts by Dean Kaner
(see all)